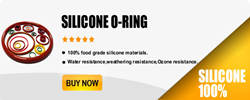 (PRWEB) February 12, 2014
TOGOHK.com, a leading silicone O-rings wholesale supplier, today announced its site-wide promotion on silicone O-rings. The other products from the company (like silicone kitchen utensils, silicone seals, and more) are offered with great discounts as well.
Now, there are many things customers have to consider when they buy silicone O-rings. But at TOGOHK.com, everything gets simpler: quality and safety considerations are never problems when it comes to silicone O-rings.
The company has a basic idea of helping clients live better, and it has invested a lot of money and energy on product styles and quality. The silicone products from TOGOHK.com are heat-resistant, and they can withstand temperatures of up to 360 degrees centigrade. The company has won a great reputation for its premium quality products and services.
As a rapidly expanding company and a well-known silicone O-rings wholesale supplier, TOGOHK.com has many innovative products and long-term customer care, which have positioned the company as a pioneer in the industry. The CEO of TOGOHK.com states, "Our talents and international perspective match perfectly with the current and long term goals of many of our customers. We hope we can do better in 2014."
About TOGOHK.com
Founded in 2003, TOGOHK is a globally accomplished silicone product development company that offers insightful guides and product comparisons for clients. The company has developed into a modern enterprise that offers its clients worldwide a one-stop silicone product solution from conception to delivery. With high technology engineering and advanced CAD and CAM, the company has been serving more than 3000 customers from over 70 countries.
For more information about the business, please visit their website at: http://www.togohk.com/?gallery=silicone-o-ring