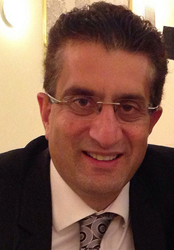 (PRWEB) February 17, 2014
Dr Tariq Drabu is the highly respected Manchester dentist. He is the owner of the successful Langley Dental Practice in Middleton, Manchester. In addition, he is the Clinical Lead Dentist for the Oral Surgery Clinical Assessment and treatment Services for NHS Heywood Middleton and Rochdale.
Dr Tariq Drabu, speaking in Manchester recently, was referring to an article which was published by the Science Daily website. The article, which talks about a recent scientific review of orthodontic treatments for children, can be read in full here. He said, "Children who have crooked or misaligned teeth require orthodontic treatment to straighten their teeth. Orthodontics also improves appearance and bite so it is vital that it is done effectively, and at the right age. I welcome this recent scientific study and review. It is important that we continue to develop treatments to ensure patients are receiving the very highest levels of care."
Dr Tariq Drabu, leading Manchester dentist, went on to say, "Treating a child at the right age is an extremely important part of successful orthodontic treatments. If the child is treated too young, further corrective braces may be required when they are older. Sometimes it can be beneficial to wait until adolescence so that the treatment is successful and has a long lasting effect. I understand how difficult and upsetting misaligned teeth can be for young people. I have been a family dentist for over 25 years and I know how emotional it can be for a child to have crooked teeth. However, as dentists, our job is to give our patients the very best care, and ensure that their treatments are successful. I welcome this latest research, especially since it seems to back up my belief that age is an important factor in providing effective and long lasting orthodontic treatments."
The article suggests that waiting until children are slightly older, in their early teens or early adolescence can produce better results from orthodontic treatments.
Dr Tariq Drabu of Manchester continued by saying, "It can be a difficult and sensitive decision for parents and children. Some patients prefer to start earlier and undergo two treatments in a phased approach, whereas other patients will prefer to opt for one treatment only. My colleagues and I have seen excellent results using both options. We always endeavour to give patients all the information and guidance they need so they understand the treatment that is required. We will ensure they have the best advice and that we recommend the right levels of orthodontic treatment for them."
Dr Tariq Drabu, Manchester dentist, closed by saying, "It is common for young people to have front teeth that stick out or that have grown in misaligned, or sometimes sports injuries can occur which affects the positioning of the teeth. Orthodontics is a highly specialist area and I am pleased to say we are able to offer the treatments for our patients at Langley. If anyone feels they could benefit from orthodontic treatment, I recommend they contact my practice to arrange a consultation, and refer to the website for more information about the treatments we provide."
About Dr Tariq Drabu
Dr Tariq Drabu is a highly experienced and well known Manchester dentist and GDC registrant. He is accredited as a Specialist in Oral Surgery by the General Dental Council. Dr Tariq Drabu practices at his Langley Dental Practice in Manchester. Dr Drabu is a leading name in dentistry, with more than 25 years' experience in both general practice and hospital dentistry. Dr Tariq Drabu is also the Clinical Lead Dentist for the Oral Surgery Clinical Assessment and Treatment Services at NHS Heywood, Middleton and Rochdale. He is a specialist staff member at The UCLan Dental Clinic in Preston.