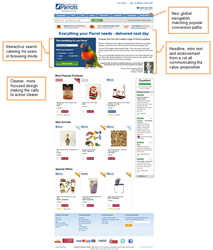 There's no such thing as 'best practice'. Every website is different.
(PRWEB UK) 13 February 2014
Beating off 136 other entrants from all over the world, the award was given for a test which increased sales by a massive 34.7%. AWA's client, Northern Parrots, is the UK's leading retailer of parrot food, toys and accessories.
Managing Director of Northern Parrots, Mike Taylor, said, "We're delighted. We never expected to get such a good result as we'd previously had web experts telling us that our home page was so good it couldn't be improved. AWA guarantee a 20% uplift or money back, so we decided to give it a try as we had nothing to lose."
CEO of AWA, Dan Croxen-John explained that the outstanding test result came about through diligent research and analysis. "There's no such thing as 'best practice'," he said. "Every website is different. It was only when we really listened to the customer, and properly looked at the analytics that we were able to develop new creative work that would influence visitors to the site to spend more and buy more often."
AWA regularly achieves high-conversion successes for its clients, through the application of a rigorous 5-step process, known as the AWA Conversion System™.
Initially AWA uses techniques like heat maps and live usability studies to identify areas that could be improved. These are then ranked in order of priority using a unique analysis method known as Triage™. Those areas identified as holding the best potential are then wireframed, researched and finally split-tested.
More information about the AWA Conversion System™ and the unique guarantee of 20% increase in sales within 12 months can be found on the website, http://www.awa-digital.com. Details of all the WhichTestWon awards can be seen at http://whichtestwon.com/2014-online-testing-awards-winners until 7 March.
END
For more information, contact:
Lynne Wright
AWA digital
lynne(dot)wright(at)awa-digital(dot)com
+44 (0) 20 7887 2695