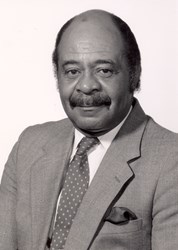 New Rochelle, NY (PRWEB) February 12, 2014
Monroe College, a national leader in urban and international education, today announced that the new dormitory under construction on its New Rochelle campus will be named Gaddy Hall, in honor of Dr. James R. Gaddy, a former Superintendent of the New Rochelle School District, Principal of New Rochelle High School, and longtime member of Monroe's Board of Trustees.
Gaddy Hall will provide on-campus housing for 300 students. The lower floors will house seven classrooms, as well as a 250-seat cafeteria and offices for faculty and administrators. Construction is scheduled for completion in August of 2014, with the first students taking residence in the fall semester.
Dr. Gaddy was Superintendent of the New Rochelle School District from 1985-1992, having served as Principal of New Rochelle High School for 16 years. The National School Boards Association voted Dr. Gaddy one of the top 100 educators in North America in 1984. During his tenure as Principal of New Rochelle High School, the United States Department of Education selected the school as one of the top 100 high schools in the country for the academic year 1982-1983. The city's school district was also chosen as one of the top 20 in the country by the Wall Street Journal in 1984. Dr. Gaddy has served on Monroe College's Board of Trustees for 28 years.
"Dr. Gaddy has left an indelible mark on the education system of New Rochelle, and we are proud to honor and recognize Monroe's partnership with him in today's dormitory naming announcement," said Stephen Jerome, president of Monroe College. "He undoubtedly played a key role in helping the New Rochelle school system achieve national recognition, and has provided invaluable insight that has significantly aided the development of our institution."
"I am incredibly honored to have my name associated with a college that is committed to the academic success of its students," said Dr. James Gaddy. "Monroe's unwavering support of its students, and partnership with the New Rochelle community, is exemplified in the construction of this very building. I consider myself privileged to be connected to such a dedicated institution."
Dr. James Gaddy has been appointed to many prestigious national commissions, including the Carnegie Foundation for the Advancement of Teaching's Study of Secondary Education in America, The National Education Association's Study of Education for all Handicapped Children, and the International Programs Committee of the National Association of Secondary Principals.
Currently, Monroe College has six academic buildings in New Rochelle, including a state-of-the-art Culinary Arts Center, in the downtown area, and campus housing is provided for 1,000 of its 2,500 students across 16 local buildings. The Monroe Athletic Complex, a 45,000 square-foot indoor arena that is home to the Monroe Mustangs athletic programs, was added to the New Rochelle campus in 2011.
ABOUT MONROE COLLEGE
Founded in 1933, New York-based Monroe College is a nationally ranked private institution of higher learning with a student-centric learning approach that prioritizes hands-on academic experiences, practical and relevant academic programs, flexible learning schedules, best-in-class instructional technologies, and committed and engaged faculty to ensure that students are well positioned for career success upon graduation.
Monroe College offers Certificate, Associate, Bachelor's, and Master's degree programs. It has campuses in the Bronx, New Rochelle, as well as in the Caribbean nation of St. Lucia, with programs offered through its Schools of Criminal Justice, Information Technology, Nursing, Education, Business & Accounting, Hospitality Management and Culinary Arts, and Allied Health Professions, as well as through its liberal arts and continuing education programs, and its King Graduate School. The institution was listed in the fall of 2013 by U.S. News & World Report as the most affordable ranked private college in New York State. For more information and admissions criteria, please visit http://www.monroecollege.edu.