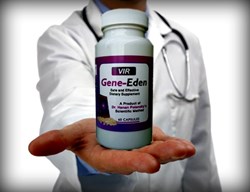 We believe that every person with a life threatening HCV infection should be able to combat the virus whether they have insurance or not. Gene-Eden-VIR is very reasonably priced and therefore should be recommended by doctors. – Mike Evans, polyDNA
Rochester, NY (PRWEB) February 18, 2014
Many Canadian hepatitis C patients, without private health insurance, cannot afford the new HCV treatments. These treatments are extremely expensive. A 12-week treatment costs about $100,000. These treatments "haven't yet been approved for coverage by the Ontario Drug Benefit (ODB) program (1)." In light of this issue, polyDNA recommends that Canadian doctors learn about Gene-Eden-VIR. This natural HCV remedy was proven to reduce hepatitis C symptoms in a post-marketing clinical study that followed FDA guidelines.
"Dr. Curtis Cooper, director of the Ottawa Hospital and Regional Hepatitis Program, said the new medications coming onto the market 'are revolutionizing the way that we treat hepatitis C. These new medications are very well tolerated; they're short duration and they have very, very high cure rates,' he said. But their staggering cost currently puts them beyond the reach of most people (1)."
Many Canadian doctors believe that the ODB program will ultimately cover the cost of the new hepatitis C drugs. They don't anticipate that this coverage will go into effect before winter of 2014 at the earliest. However, some patients may not be able to wait even a year. Dr. Cooper continued, saying "For some of my patients, it's touch and go whether they have a year to wait before they start treatment (1)."
polyDNA recommends that Canadian doctors learn about Gene-Eden-VIR, a natural HCV remedy that was proven safe and effective in a post-marketing clinical study.
"We believe that every person with a life threatening HCV infection should be able to combat the virus whether they have insurance or not. Gene-Eden-VIR is very reasonably priced and therefore should be recommended by doctors." – Mike Evans, polyDNA
Gene-Eden-VIR, a natural HCV remedy, was designed to help the immune system target the latent virus. A study published on August 12, 2013 in the peer reviewed, medical journal Pharmacology & Pharmacy, in a special edition on Advances in Antiviral Drugs, showed that Gene-Eden-VIR reduced hepatitis C symptoms (2).
Study authors wrote that, "Individuals infected with the hepatitis C virus…reported a safe decrease in their symptoms following treatment with Gene-Eden-VIR (2)." The study authors also wrote that, "We observed a statistically significant decrease in the severity, duration, and frequency of symptoms (2)."
Doctors can read the entire scientific paper by visiting http://www.scirp.org/journal/PaperInformation.aspx?paperID=36101#.Uu95eD2Sz90.
To learn more about Gene-Eden-VIR, and HCV, visit http://gene-eden-kill-virus.com/HCV.php. All orders of Gene-Eden-VIR are completely confidential, and no information is shared or sold to any third party. Privacy is assured.
References:
(1) Hepatitis C patient can't access costly new drugs without private insurance. Published on February 11, 2014.
http://www.ottawacitizen.com/health/Hepatitis+patient+access+costly+drugs+without+private+insurance/9496232/story.html
(2) Gene-Eden-VIR Is Antiviral: Results of a Post Marketing Clinical Study. August 12, 2013.
http://gene-eden-kill-virus.com/PP_Gene-Eden-VIR-is-Antiviral.pdf
polyDNA is a biotechnology company that develops dietary supplements using the unique scientific method developed by Dr. Hanan Polansky, which is based on Computer Intuition.
In addition to his unique scientific method, Dr. Polansky published the highly acclaimed scientific discovery, called Microcompetition with Foreign DNA. The discovery explains how foreign DNA fragments, and specifically, DNA of latent viruses, cause most major diseases.
polyDNA developed Gene-Eden-VIR, an antiviral natural remedy that helps the immune system kill latent viruses.