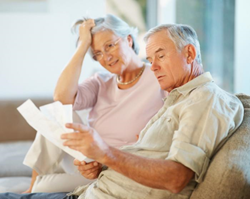 Affected pensioners and retirees would be wise to consider ways in which they could protect their pension funds should they exceed the revised lifetime allowance.
London, UK (PRWEB UK) 17 February 2014
HMRC introduce their new pension lifetime allowance limit in April 2014, meaning that the former £1.5m threshold will be reduced to £1.25m and testing of the legislative pension cap will begin. How this impacts retirees and their international pension plans still remains to be seen.
Few realise it, but people entering the final twelve years of pre-retirement who presently have a pension pot worth £700,000 or more could directly be affected by unwittingly reaching the £1.25m limit and incurring a hefty £100,000+ tax bill that many will surely struggle to come to terms with.
Whilst experienced savers might choose to keep an eye on their assets and to ensure their money is performing as dynamically and tax-efficiently as possible, many others simply don't have the time, knowledge or inclination to act or seek advice when trying to protect and grow investments.
Director of Operations David Retikin of Pryce Warner International Group commented:
"The lower lifetime allowance will not affect too many people due to the size of the allowance, however, those affected would be wise to consider ways in which they could protect funds exceeding the allowance limit. Expats have a host of options available to them, but if you do not already have them or expect to have pensions rights beyond the £1.5m allowance, applying for enhanced protection could be a smart move, because if the allowance is further reduced, you will not be further affected."
Choosing fixed or individual protection are two of the most common counteractive methods now being used ahead of the April 2014 deadline. Basically, fixed protection secures a £1.5m lifetime allowance, whilst individual protection secures a lifetime allowance equal to a saver's pension pot.
Once the lifetime allowance has been reached, applicable tax rates are determined on fund usage, but asset value will be affected. Individuals taking lump sum payments will attract a 55% deduction whilst those retaining funds in their pension plan will attract a 25% deduction.
Anyone with UK pension assets could transfer their funds overseas, although they'll still be the subject of HMRC scrutiny. Independent financial advisors do offer alternative and perhaps seldom utilised answers that are perfectly legal and most importantly, approved by HMRC.
As well as a handy tool specifically designed to help affected parties decide upon the best course of action, elaboration on the finer details of the lifetime allowance capping, including an array of terms and conditions, can be found at HMRC website.