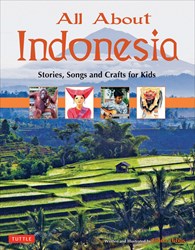 "Using eye-catching images and interesting descriptions, Hibbs portrays Indonesia as a land that is both geographically and culturally diverse." - School Library Journal
North Clarendon, VT (PRWEB) February 12, 2014
In this new book of the popular All About series, author Linda Hibbs takes children on an adventure through Indonesia, introducing them to the culture, food, language, and more of this diverse country! From popular sports to traditional dances, and everyday dress to school activities, All About Indonesia provides elementary and middle school-aged children glimpses into everyday life in this faraway land through stories, activities, songs, crafts and recipes.
•Learn basic words from the national language – Bahasa Indonesia
•Make a traditional "Topeng" mask, worn during special dances
•Create a beautiful batik cloth
•Enjoy sweet "Dadar gulung" made with coconut and more!
This book is now available and can be purchased in bookstores and online at Tuttle Publishing and Amazon.
About the series
With these books, kids visit the homes and schools of kids just like them who live in other countries. With the turn of a page, children get to celebrate their holidays, learn their traditions, try recipes for local dishes, and so much more. Only an actual journey can give kids a better sense of being there. Parents and teachers will enjoy the ride too. So hop on board and get ready for great adventures!
About the Author
Linda Hibbs got hooked on Indonesia on her first visit at age 12 and has been studying the language and culture ever since. She has taught Indonesian for over two decades at the secondary school and university levels, and holds degrees in Indonesian language and ethnomusicology, as well as a master's degree in Asian studies. She is an educational consultant who has created various resources for Indonesian language educators at the primary and secondary levels, including Tuttle Publishing's Indonesian for Kids Flash Cards and More Indonesian for Kids Flash Cards kits. When she isn't teaching or consulting, she creates artworks and plays Indonesian music with a gamelan orchestra.
About Tuttle Publishing
Established in 1948 by Charles Egbert Tuttle Jr. in Rutland, Vermont and Tokyo, Japan, Tuttle Publishing is the premier publisher of English language books on Asian culture. Today, Tuttle maintains an active offering of books on a wide range of topics, including Asian culture, Asian literature, Asian architecture, Eastern spirituality, gardening, cooking, martial arts, crafts, travel, children's, and fine art for a worldwide audience. For more information, visit http://www.tuttlepublishing.com.