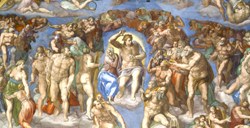 Michelangelo.net is LIVE!
(PRWEB UK) 13 February 2014
Michelangelo is a Renaissance master who continues to amaze new generations of art fans. Despite the rise of modern art, the likes of Michelangelo and Leonardo da Vinci remain household names and show no sign off disappearing from the public conscience anytime soon.
It seemed about time that this great master, an Architect, Sculptor, Painter and Poet, had a website which matched his own qualities and delivered something unique which could serve his army of fans around the world. From this, Michelangelo.net was born.
The website is designed to make it easy to find whatever Michelangelo artwork you are looking for - the art is categorised into specific mediums, such as paintings, sculptures, architectural drawings and literature. There are also full lists of artworks, organised year-by-year plus a biography too.
The Michelangelo blog will also cover the latest related news items and there are also plans to include information on other artists in the near future, such as fellow Renaissance master Leonardo da Vinci, who himself was also an inventor. The blog specifically aims to draw in fans from across the world and encourage discussion on various topics related to the artist.
For those looking to learn even more about the famous artist, there will also be recommended publications and other websites which can provide further information beyond that which is provided by the comprehensive Michelangelo.net.
All paintings, sculptures and drawings included in the website are also available to buy as reproduction art prints, posters and stretched canvases. Links beside each product indicate how to buy these Michelangelo artworks online. Framed and unframed versions are available and the most famous of Michelangelo's career remain the most popular from his career, such as the likes of the David and Pieta sculptures as well as the Sistine Chapel ceiling frescos.
A new online gallery covering each and every one of Michelangelo's works will also be added in shortly, with the aim of providing high resolution detail of the artist's inspiring contributions to the Italian Renaissance.
Even at this early stage, it seems that Michelangelo.net will change the way that students and art fans research their favourite artists - starting online rather than with written publications, when information and imagery is available at their fingertips with a click of a button.
Visit Michelangelo.net now to see what all the fuss is about!