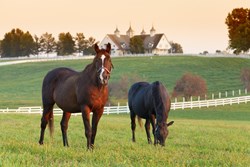 2014 Bliss Award Winner - Lakewood Ranch
Sarasota, Florida (PRWEB) February 18, 2014
Don't let the word 'ranch' mislead. This 13,500 acre master-planned community is one of the finest Real Estate Scorecard has seen in Southwest Florida. Lakewood Ranch has it all including a world class polo facility and equestrian center. Since 1991, residents have spent Sundays watching the "fastest game on four feet". The Sarasota Polo Club is a 130 acre competition facility situated on the east side of the community.
The equestrian center has nine world-class polo fields and a regulation size arena. The polo season attracts the best players in the world and the facility is dog friendly. Old fashioned Clydesdale wagon rides, tailgate parties, half-time entertainment and divot stomping take place during the tournaments.
Amenities on site include:
Nine outdoor Polo Fields
Full-size outdoor Arena
Covered open-air Pavilion
Three 24-Stall Barns with turnout
Two Stick and Ball fields
Members Clubhouse
3/4 mile Exercise Track
On-site Veterinary Cinic
Gift Shop
Lakewood Ranch has over 100 miles of nature trails wrapping in and around three community parks. With 35 private ranches ranging from 5 to 40 acres surrounding the polo fields, property owners have the option of keeping their horses at home. Over 600 horses are stabled in and around the club during polo season.
While Real Estate Scorecard's focus today is on recognizing Lakewood Ranch equestrian amenities, the community is a city in and of itself! Main Street Shopping, Lakewood Ranch Medical Center and top rated schools are built within the neighborhood. This comprehensive master-planned community will have 20,000 homes spread across nine villages at the project's completion. Approximately 8,500 homes have been built to date. Esplande is the community's newest neighborhood.
Four championship golf courses, two clubhouses with dining, an elaborate tennis center and wellness center are more amenities at Lakewood Ranch. New homes can be found under $200k and ranch equestrian properties can exceed $2 million. Real Estate Scorecard applauds Lakewood Ranch's inclusion of horse amenities into their award winning neighborhood.
ABOUT REAL ESTATE SCORECARD BLISS AWARDS™:
After visiting 241 master-planned communities in the Southeast, only 140 or 58% have made 'the cut' as of 2014 and are worthy of being included on Real Estate Scorecard's 'best list'.
Bliss Awards are presented annually to the best master-planned communities we find in Florida, Georgia, The Carolina's and Tennessee. All 140 communities were given an equal opportunity to participate in the Happiest Community of the Year™ voting process. Through the Bliss Awards, readers learn about the friendliest neighborhoods, most relaxing places to live, communities with superior amenities and attributes that make them special.
Over 2,400 verified property owner reviews on Real Estate Scorecard's website have been temporarily 'unlocked' - reviews they considered before determining their winners. The fourteen Bliss Awards™ are selected by category:
Happiest Community of the Year™
By State - in Florida, Georgia, North Carolina, South Carolina and Tennessee
By Lifestyle - Beach, Boating, Golf, Mountain, Lake, Tennis, and Equestrian
Best Community Spirit
This year, Real Estate Scorecard added a new category for Best Community Spirit after a newcomer made the competition tougher.
To see all fourteen 2014 Bliss Awards winners, visit:
http://realestatescorecard.com/news/real-estate-news/national/best-community-year-2014-bliss-awards.