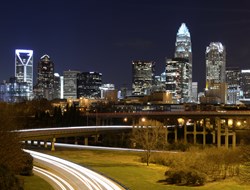 Visit the ELEVATE 2014 microsite to register now and stay abreast of all the conference details.
Charlotte, NC (PRWEB) February 12, 2014
Verian, the leader in helping organizations achieve world class cost control, has now opened registration for its ninth annual user conference, ELEVATE 2014, to be held September 24-26, 2014 at the Hilton Charlotte Center City, located in downtown Charlotte, NC.
ELEVATE 2014 is a fast-paced, high-impact customer event dedicated to helping Verian users maximize their results from Verian's suite of purchase to pay solutions. The theme of this year's event is See-Manage-Save™, derived from Verian's proven implementation methodology that "elevates" purchasing and payables operations from tactical to strategic by helping organizations bring every pocket of their spend under management.
Conference Agenda and New Microsite
Customers attending ELEVATE 2014 will benefit from exciting and motivational speakers, live industry case studies presented by Verian clients, engaging customer breakout sessions, peer roundtables and networking, a Verian Genius Bar, hands-on solution demos and training, and much more. Verian has launched a convenient ELEVATE 2014 microsite where customers can stay abreast of the conference agenda, learn more about the Charlotte, NC location, complete registration, and even take care of hotel reservations. The microsite also includes video testimonials from customers attending last year's exciting event, complete with their commentary on why they feel ELEVATE is such an incredible value.
Bringing Multiple Team Members
Verian is encouraging all customers to extend ELEVATE 2014 invitations to multiple team members. Many Verian customers take this approach, sharing positive feedback that bringing multiple team members improves results by building enthusiasm and camaraderie at the event and afterwards.
Available Registration Discounts
Customers registering for ELEVATE 2014 before June 1 are eligible for a $100 early bird discount. There is also a substantial registration discount extended to each additional attendee from the same team. Registering early is also the best way to save attendees money on hotel registration and airfare.
Charlotte, NC Venue
Located in the heart of the Southeast, Charlotte lies within the southern Piedmont of North Carolina, along the state's border with South Carolina. Charlotte is the largest and most accessible city between Washington, D.C., and Dallas, Texas. Due to its mid-Atlantic location, getting to Charlotte is easy from anywhere in the country or the world, hence its nickname "the International Gateway to the South."
Hundreds of thousands of business travelers journey to Charlotte each year for meetings, conventions, and trade shows, enjoying the convenience of one of the nation's largest international airports situated just seven miles from the downtown area, and an incredible array of unique dining, shopping, and entertainment options. ELEVATE 2014 is being held at the Hilton Charlotte Center City in the heart of the city's convention district, a walkable and compact area featuring nearly 100 restaurants, plus cultural venues, museums, and a vibrant nightlife scene.*
About Verian
At Verian, we help organizations achieve world class cost control by putting all spending details at their fingertips in our broad, comprehensive purchase to pay software suite. With over 200 successful implementations, we get it right the first time, configuring software solutions that address companies' unique challenges and industry specific complexities. We drive value beyond implementation by helping organizations bring every pocket of spend under management with our proven See-Manage-Save™ approach. Learn more by visiting our website at Verian.com, or by reading our Verian blog. Stay current on Verian happenings by following us in social media on LinkedIn, Facebook, or Twitter.

Source – Charlottesgotalot.com, Official Tourism site for the Queen City of Charlotte, NC