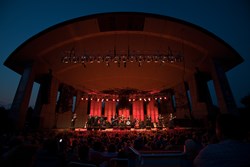 Grand Rapids, MI (PRWEB) February 13, 2014
Frederik Meijer Gardens & Sculpture Park is pleased to announce three acts that will be performing at Meijer Gardens' popular outdoor summer concert series—as well as a new title sponsor: Fifth Third Bank. The eclectic series will now be called Fifth Third Bank Summer Concerts at Meijer Gardens.
"Fifth Third Bank is a wonderful community supporter and friend of Meijer Gardens," said David Hooker, president & CEO of Meijer Gardens. "We are thrilled to put two great brands together to make a great series even better."
"We are excited to continue the tradition of bringing quality entertainment to West Michigan," said Tom Welch, president & CEO of Fifth Third Bank Western Michigan. "We are proud to be a partner with the summer concert series and invite you to join us this summer."
The complete lineup will be announced in mid-April. Featuring a mix of rock, county, pop, blues and funk, the series will include:
NEEDTOBREATHE
June 21
Alternative Christian rock band, NEEDTOBREATHE, is composed of brothers, Bear Rinehart (lead vocals, guitar, piano) and Bo Rinehart (guitar), with Seth Bolt (bass). From South Carolina, the band has released four studio albums, with hits such as "Washed by the Water," "Something Beautiful," and "Keep Your Eyes Open." Their new album, Rivers in the Wasteland, will be released on April 15, 2014.
Jennifer Nettles
July 19
Best known as the voice of the successful country pop duo Sugarland, singer and songwriter Jennifer Nettles recently launched her solo career and has a new album under her belt, That Girl, which debuted in January. In 2003, she co-founded Sugarland with Kristian Bush and has since received multiple Grammy nominations and awards such as "Best Country Song" and" Best Country Performance by a Duo or Group."
KC and the Sunshine Band
July 24
KC and the Sunshine Band have been the voice of the disco and funk genre since forming in 1973. Their songs have been featured on more than 200 motion picture film soundtracks, every major sporting event and holiday parade over the years. Their numerous award-winning hits include, "That's the Way (I Like It), "(Shake, Shake, Shake) Shake Your Booty," "Get Down Tonight," and "Give It Up.
Members of Meijer Gardens will be able to purchase tickets during an exclusive members-only presale, April 26 through May 9. During the pre-sale, members also receive a $5 discount per ticket. To join or renew before April 26, visit MeijerGardens.org/Membership.
Tickets will go on sale to the general public on May 10. More information on prices and purchasing locations will be available following the release of the full lineup in mid-April.
The 2014 Fifth Third Bank Summer Concerts at Meijer Gardens is made possible in part by Fifth Third Bank, Harvey Lexus of Grand Rapids, Meijer, Inc. and Life EMS. The media sponsors are Classic Rock 97 LAV, MLive and FOX 17.
###
High-resolution images available for download: https://www.dropbox.com/sh/w4el51dcve6kano/AGxz_lpqq3.
About Meijer Gardens' Amphitheater
The 1900-seat amphitheater is general admission. Concertgoers are welcome to bring a blanket or low-rise chair to sit on. Low-rise chairs are defined as 12" maximum from ground to front of seat bottom and 31" maximum to top of chair back in highest position. These rules are strictly enforced. No other chairs will be permitted in the venue. A limited number of standard-height chairs will be available to rent for $5 (located in designated area-may not be removed) on a first-come, first-served basis. All concerts are rain or shine-weather delays possible. A selection of sandwiches, snacks, water, soft drinks and alcoholic beverages are available at the concessions counter. All beverages purchased here must be consumed inside the amphitheater gates. Concertgoers are also welcome to bring their own food, bottled water and non-alcoholic beverages. No glass or refillable containers are allowed. All beverages must be in their original sealed containers; any liquids in unsealed containers must be discarded at the gate before entering.
About Frederik Meijer Gardens & Sculpture Park
One of the world's most significant botanic and sculpture experiences, Frederik Meijer Gardens & Sculpture Park serves nearly 600,000 visitors annually. Meijer Gardens was recently ranked in the top 100 most-visited art museums worldwide by Art Newspaper, the leading publication in global art news. The 132-acre grounds feature Michigan's largest tropical conservatory; one of the largest children's gardens in the country; arid and Victorian gardens with bronze sculptures by Degas and Rodin; a carnivorous plant house; outdoor gardens; and a 1900-seat outdoor amphitheater, featuring an eclectic mix of world-renowned musicians every summer. The internationally acclaimed Sculpture Park features a permanent collection including works by Rodin, Oldenburg, Moore, Serra, Bourgeois and Plensa, among others. Indoor galleries host changing sculpture exhibitions with recent exhibitions by Picasso, Degas, di Suvero, Borofsky, Calder and Dine. In June 2015, the 8 – acre Richard and Helen DeVos Japanese Garden at Frederik Meijer Gardens & Sculpture Park will open. Created by renowned designer Hoichi Kurisu, the garden will also feature sculpture by Anish Kapoor, Zhang Huan, and Guiseppe Penone, among others.