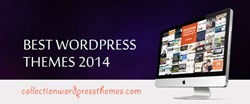 The Best WordPress themes from the top collections.
(PRWEB) February 20, 2014
CollectionWordPressthemes.com has recently released Best WordPress themes 2014 collections. Web designers and web developers can use these original themes to give their online business an advantage over their competitors.
WordPress is known as a content management system (CMS). This is a totally free open-source blogging tool that operates on a web hosting service and is definitely the most common free management system available. WordPress offers its users many advantages, which come in the form of SEO-friendly features or ease of management. CollectionWordPressthemes.com is one of the leading theme collection websites that recently launched a brand new series of WordPress theme 2014 collections. WordPress themes have helped online businesses and web designers reach their targets faster and more efficiently. With these new and unique WordPress themes, requirements of online businesses and some websites operating in law, church, photography and restaurants are surely met.
CollectionWordPressthemes.com is a site that functions as a library with different WordPress theme collections in various topics and categories. In addition, users can receive advice, detailed guidelines as well as newest design trends.
CollectionWordPressthemes.com collects many breakthrough and professional resources primarily for designers and offers some of them for free. Among those, there are some useful collections that have been carefully chosen after detailed research to make sure they can cater for customers' needs, including Best WordPress themes 2014, Best E-commerce or Kid WordPress themes 2014 and more.
Talking about various benefits of these WordPress theme collections, the founder said: "In order to best serve customers, the collections of WordPress themes provide users not only with themes but also with useful features that will make their business easier. Besides, CollectionWordPressthemes.com also offers customers footer design inspiration, which will harmoniously blend with the website. In addition, high quality hosting services for WordPress are also selected to offer users many choices when it comes to hosting services."
The themes in Best WordPress themes 2014 collections are ideal for all web designers, web masters, bloggers and those working in the field of online business. "At CollectionWordPressthemes.com, we are proud to play a role in introducing new and trendy WordPress themes for customers. These themes are beautiful, clean, and powerful. In CollectionWordPressthemes.com, themes and other resources are always updated. New collections will be compiled and released every week to bring customers the freshest choices." says Vicky Do, CEO of the website.
About the company
CollectionWordPressthemes.com is one of the leading designers of WordPress themes. The website also features a wide range of design resources related to web design.
To know more about CollectionWordPressthemes and WordPress themes 2014, visit http://CollectionWordPressthemes.com/.