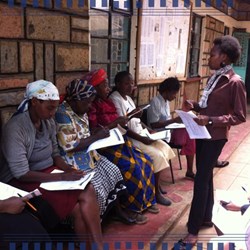 I'm so inspired by all the mothers. I see them having success and self confidence.
Kansas City, KS (PRWEB) February 12, 2014
Unbound, the largest nonprofit organization in the state of Kansas, is pleased to host an event providing the community information on an innovative program empowering mothers in Kenya.
Lillian Naka, mothers group coordinator for Unbound's Nairobi project in Kenya, will give an engaging presentation on microloans for the mothers of sponsored children. Her talk will demonstrate how helping mothers improve their lives and livelihoods is the start of economic self-sufficiency for the entire family.
Microloans for Mothers with Lillian Naka
Date: Thursday, Feb. 13, 2014
Time: 6 to 8 p.m.
Unbound Headquarters
1 Elmwood Ave., Kansas City, KS 66103
Unbound can provide, upon request, still photos and video of our mothers and their project in action.
Unbound is the largest nonprofit in Kansas with more than $110 million in annual revenue. We work directly with children, families and the elderly in 21 developing countries as they confront the challenges of poverty and work toward a better life.
Unbound distributes direct aid as quickly and efficiently as possible to people who need it. More than 93 percent of all the money Unbound spends goes to program support.