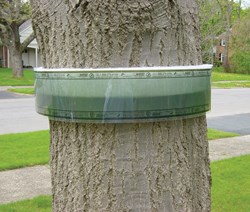 Victor, NY (PRWEB) February 13, 2014
Spring cankerworm adults will soon emerge from pupation to begin their ascent to the upper branches of their target trees. There they will lay their eggs. Meanwhile, the eggs of another leaf eating pest, the Gypsy Moth will soon hatch and these hungry larvae will begin their feast. That's when residents of infested areas will ask garden center operators, their "tree guy" and their local municipalities for environmentally sound control products.
Banding trees with an adhesive band is becoming the preferred control method for such climbing and crawling insects as spring cankerworm and gypsy moth, as well as fall cankerworm and winter moths because of the reduced exposure to chemical pesticides. Envirometrics Systems USA packages the pesticide free BugBarrier Tree Band® in 10 and 30 foot kits for retail distribution. It is also bulk packaged in 250 foot kits for professional and volume banding.
University researchers, government entomologists and arborists in the field have tested the Bug Barrier Tree Band, and have been using the band successfully for more than 10 years. It is so effective that it is required to be EPA registered as a "mechanical pesticide".
The BugBarrier Tree Band contains no pesticides, or pheromones. This adhesive banding system is comprised of a dense, flexible fiber barrier which fills bark crevices and an adhesive film barrier that traps the insects. This unique inward facing adhesive design eliminates unsightly debris that insects turn into bridges, and keeps insect carcasses out of sight . Best of all, it can be installed in less than five minutes.
For product information and a list of distributors, visit http://www.treebands.com or contact Envirometrics Systems USA Inc. at 800.379.9677 or bpancoast(at)treebands(dot)com.