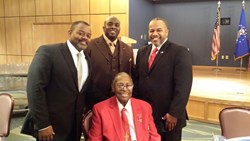 "Partnering with Chief Richardson was an extremely rewarding experience." - TST
Panama City, FL (PRWEB) February 13, 2014
J. Lee's Gourmet BBQ Sauce Team (TST) joined forces with Documented Original Tuskegee Airman, Chief Master Sergeant Retired Walter H. Richardson for a joint promotional venture and speaking engagement at Tyndall, Air Force Base (AFB) in Panama City, Florida from January 31 thru February 1, 2014. Chief Richardson joined the United States Air Force in 1949 and upon completion of Basic Military Training at Lackland Air Force Base in San Antonio, Texas he auditioned and was selected to join a team that formed "Operation Happiness", an entertainment team spearheaded by the late Original Tuskegee Airman, General Benjamin O. Davis, the first African American General of the Air Force, in an effort to boost the morale of the "colored"/ African American units. A 30 year retired Air Force veteran, Deacon, and published author of the book "How Great Thou Art", A Black Boy's Depression Era Success Story, Chief Richardson was the invited keynote speaker for Tyndall, AFB annual awards ceremony.
The Sauce Team (TST) of James Lee, Founder: Ashante Vereen, Sales and Marketing Director; and Curtis Jennings, Public Relations Representative, transported the Chief, currently 84, from his home in Fort Walton Beach, to Panama City, Florida.
TST, led by its founder U. S. Army Veteran James Lee, capitalized on the special opportunity to hear and support a fellow Disabled American Veteran and Original Tuskegee Airman, by attending the banquet with Richardson the evening of the 31st of January. The following day TST and Chief Richardson set up at Tyndall Air Force Base to introduce J. Lee's Gourmet BBQ Sauce to the Panama City area and give the service men and women the rare opportunity to connect with a historical figure at Chief Richardson's book signing. Their combined work and volunteer support sold hundreds of bottles of sauce in less than 11 hours and the entire shipment of books Richardson had on hand were autographed and completely sold out. Customers were moved emotionally over receiving a piece of history, and amazed at the versatility and great taste of J. Lee's Gourmet BBQ Sauce. The Sauce Team was honored to partner with Richardson and said it was "extremely rewarding". There will be several joint volunteer ventures planned for the future. "Generous supporters of the community" and" Armed Forces Veterans" are words that best describe TST (The Sauce Team).
J. Lee's Gourmet BBQ Sauce believes in giving back to the community as demonstrated by their mentorship efforts through the local public schools system, active involvement in church ministry, youth programs, little league sports support, cancer research campaigns, and Disabled Veterans Projects.