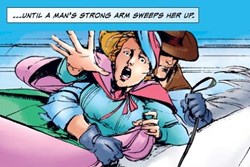 Our romance graphic novels are popular on the iPhone, so it followed that we would make them available for the growing Android users market
Montgomery Village, MD (PRWEB) February 13, 2014
Getting a dose of romance while on the go just got easier. MyRomanceStory's happily-ever-after love stories—in sensually illustrated graphic novels—have been released as apps to GooglePlay and Android phone users. These e-novels have long been available to worldwide romance readers as iPhone apps. To find them on GooglePlay search by keyword, "myromancestory". MyRomanceStory is an imprint of Arrow Publications.
"Our romance graphic novels are popular on the iPhone," says Arrow Publications' Managing Editor, Tom King, "so it followed that we would make them available for the growing Android users market."
Developed by A2Digital.net, the creative minds behind such apps as The Birthday Calendar Pal, and the original iPhone romance story app, the app took three months to perfect. "GooglePlay streamlines the upload and sales process for apps," maintains A2Digital.net CEO, Husani Bastien. "Each app does not have to be approved by a human being before being put on sale. It makes for a faster process, which has advantages and disadvantages."
Although only a portion of the MyRomanceStory library is available on GooglePlay so far—including a Spanish version of Master of Fusion—the publisher plans to expand the offering in the near future.
"As a publisher, you want to know who is buying your books. GooglePlay understands the importance of providing buyer demographics to its developers," says King. "Publishers finally have access to reports that provide at least some consumer data that will help us target our audience."
Arrow Publications, LLC, a 30-year-old suburban Maryland company also publishes romance fiction from such popular authors as Candy Caine and Bobbi Cole Meyer, and family issues-oriented non-fiction.
Contact Information: Nicole Yesel-Higman, Media and Marketing Specialist, nyesel(at)arrowpub(dot)com
http://www.arrowpub.com
http://www.myromancestory.com
http://www.a2digital.net