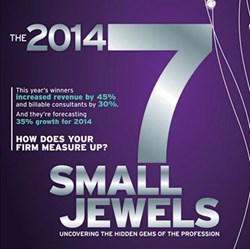 Small Jewels boast about revenue and growth that would make enterprise firms envious, but they also possess employee satisfaction in spades.
Denver, CO (PRWEB) February 12, 2014
Aspen Advisors, a U.S.-based healthcare consulting firm, announced today that it was recognized as one of seven firms awarded the prestigious 2014 Small Jewel award by Consulting magazine. With hundreds of firms under consideration, competition for the award has grown over the years. The publication cited Aspen's growth, culture, and accomplishments as a few of the reasons the firm stood out in the eyes of the editorial committee.
"Consulting's Seven Small Jewels simply outperform the overall market every time. And this year is no exception," said Joe Kornik, Consulting editor-in-chief. "Small Jewels boast about revenue and growth that would make enterprise firms envious, but they also possess employee satisfaction in spades," Kornik added. "At these firms, culture is king, recruiting is by referral, and retention rates are through the roof."
Consulting highlighted several factors for which it selected Aspen Advisors as a Small Jewel:

Aspen has achieved a 42 percent compound annual growth rate since inception in 2006. In 2013, the firm grew 32 percent, adding 27 clients, and 25 associates.
A strong retention rate of 96 percent can be attributed to a variety of reasons including creative benefit programs for tenure that include a four-week sabbatical and a $1000 vacation bonus, rotation program for expanding career opportunities, focus on internal promotions, and engaging work.
The firm's work is focused on improving healthcare by helping clients enhance processes and streamline operations through the strategic and effective use of technology. This focus is evident in engagement outcomes such as launching new care models, transforming inpatient and ambulatory care environments through technology implementation and process optimization, and launching population health management programs, among others.
"We are honored to be recognized by Consulting magazine as a Small Jewel," said Daniel Herman, Managing Principal at Aspen Advisors. "Since inception, we've been focused 100% on healthcare and achieving 100% client satisfaction. By helping solve the most challenging problems facing the industry, we're assisting clients leverage the bold promise of technology to make a real and meaningful impact on care quality, patient satisfaction, cost effectiveness, and population health."
About Aspen Advisors:
Aspen Advisors is a professional services firm with a rich mix of respected industry veterans and rising stars who are united by a commitment to excellence and ongoing dedication to healthcare. We work with healthcare organizations to optimize the value of their information technology investments. Our experienced team is highly skilled in all aspects of healthcare technology. We understand the complexities of healthcare operational processes, the vendor landscape, the political realities, and the importance of delivering projects successfully – the first time. Every client is important to us, and every project is critical to our reputation. Established in 2006, the firm has earned accolades for our culture, service delivery, and growth. We were named one of Modern Healthcare's "Best Places to Work in Healthcare" in 2011, 2012 and 2013 and one of Consulting magazine's "Best Firms to Work For" in 2012. Our hallmarks are top quality service and satisfied clients; we're proud of our KLAS rankings and that 100% of our clients are referenceable. Learn more at http://www.aspenadvisors.net. Follow Aspen on Twitter @AspenAdvisors.
###