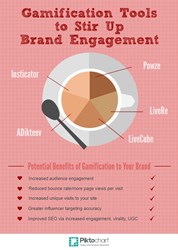 Insticator.com is poised to change the entire gamification game
New York, NY (PRWEB) February 18, 2014
For a NYC tech company, Insticator.com is certainly shooting for the stars and people are starting to notice this ingenious application.
Insticator.com was featured on CNET's "Tech Minute" where it praised the application's adaptability with Super Bowl XLVIII as well as its continued success in predicting the outcomes of both live and scripted television programming.
"If you're the betting type but don't have access to a sports book, check out Insticator.com!" says CNET reporter Kara Tsuboi.
As seen on Lost Remote, Insticator.com utilized its users Super Bowl XLVIII predictions to gauge what would happen during the big game. While most sports and entertainment sites were certain of a Broncos victory, Insticator.com users correctly foresaw the surprising win for the Seattle Seahawks.
"Most everyone thought the Broncos would win. The Seahawks weren't the favorite at all. It was exciting to see the majority of our users get that prediction correct," says Insticator founder and CEO Zack Dugow.
We're # 1!
Insticator was ranked #1 as a game changer in gamification by Business 2 Community.
Going beyond the tired trend of badges and leaderboards, Insticator was praised for its innovative gamification model and upcoming rewards implementation. Above all, Insticator was recognized for its beneficial and easy to use API. "From product showcasing to branded content advertising, Insticator's API makes networking with engaged communities of television viewers easy."
Rewards Have Arrived
Insticator users will now be able to use their earned points to redeem a diverse array of exciting prizes.
"The reward section is Insticator's biggest release to date. Users can now start redeeming their points for awesome prizes" said Dugow.
"We expect dedication to the application to increase dramatically with the addition of the rewards catalogue. We feel that the incentive of real life prizes will have a profound effect on our retention rate."
About Insticator.com
Insticator is a pioneering product that has undergone a successful launch and is gearing up for its iOS, Android and Facebook release as well as several quickly approaching partnerships in the coming months. The company is in the unique position of having curated a pool of devoted early adopters, allowing for testing and improvements within a controlled environments.
To learn more about Insticator, visit http://www.insticator.com.
Press Contacts:
Press and Media Inquiries: info(at)insticator(dot)com
Phone Number: 212.673.8969
Insticator.com
907 Broadway, Suite 702 New York, NY 10010