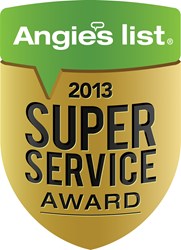 "At New City Moving, customer service is at the core of literally everything we do," noted owner Brian Slater
Chicago, IL (PRWEB) February 14, 2014
New City Moving, Inc., a Chicago-based provider of moving, packing, and loading services, has earned the industry's coveted Angie's List Super Service Award for the second-straight year in a row. The award recognizes excellence among companies who maintain a superior customer service record, and is only given to the top 5% of qualifying businesses.
New City Moving, Inc. can best be described as a boutique moving company, moving beyond the "one size fits all" trend of national franchises and leaning towards a personalized, custom-built model. For Brian Slater, the owner of New City Moving, receiving the Angie's List "Super Service Award," confirms that the business is continuing to make positive strides.
"At New City Moving, customer service is at the core of literally everything we do," Slater noted. "We expected that hiring customer-focused employees would pay off, and we are thrilled that our clients, and in turn, Angie's List, have recognized us for these efforts."
In operation since 2009, New City Moving is dedicated to providing the best customer satisfaction in the industry to the Chicagoland area. The New City brand was built on the foundation of trust, honesty, and a courteous and professional staff across all aspects of the business.
New City Moving's fleet of 30 trucks is managed by three full-time dispatchers and a full sales support team. 50+ movers have been screened and evaluated so rigorously that only the most exceptional crews are dispatched to serve New City's customers.
Over two million households nationwide check Angie's List reviews to find the best local service providers, such as doctors, dentists, roofers, and plumbers. Angie's List members submit more than 60,000 reviews every month, and the reviews include details highlighting the service experience, and a grade of the company's professionalism, punctuality, responsiveness, quality and price, on an A to F scale.
About New City Moving, Inc.:
Established in 2009 by owner Brain Slater, New City Moving, Inc. is a company committed to service representatives and movers who are not only the best in the field, but treat every customer with the same care they would give their own grandmother. New City Moving has grown to a fleet of 20+ trucks and 50+ compassionate, professional, and experienced movers and staff. With their focus on on-going commitment to customer care combined with a strong working knowledge of the moving industry, New City Moving, Inc. will make your next move stress-free! For more information please visit http://www.newcitymovers.com.