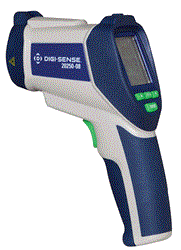 Vernon Hills, IL (PRWEB) February 12, 2014
Cole-Parmer will launch a new line of precision measurement instruments at Pittcon® 2014 in Chicago, March 3-6. Digi-Sense™ offers brand-new technologies that deliver accurate readings while withstanding rigorous use. Attendees stopping by booth #3443 can view the new Digi-Sense infrared thermometer, thermocouple thermometer, humidity meter, and light meter. Additional items soon to be available within the line include a pressure and flow meter, thermohygrometer, and a series of anemometers.
Along with items from the new Digi-Sense collection, Cole-Parmer will showcase efficiency-enhancing lab equipment and instrumentation. The new Cole-Parmer® Symmetry® EC Toploading Balance is an excellent choice for quality and precision weighing with sought-after features at an economical price. The Oakton® Temp-9500 Multiparameter Temperature Controller with USB Output with outlet receptacle permits direct plug-in of heating devices. Its advanced design allows for quicker and more reliable results for pilot process plants, R&D labs, or for OEM requirements. The Masterflex® L/S® Digital Drive is a precision digital drive that offers a maintenance-free, high-accuracy motor. The precision drive features analog remote control options and simple programming, which works well for automated process applications.
Booth visitors can also register to win a Personalized iPad mini™ with Retina display. For more information, call 800-323-4340 or go to ColeParmer.com/20802.
Cole-Parmer has been a leading global source of laboratory and industrial fluid handling products, instrumentation, equipment, and supplies since 1955. Our product lines, including popular brand names such as Masterflex®, Oakton®, and more, are sold through company-owned customer channel outlets and a strong network of international dealers. We also feature an ISO-17025-accredited metrology lab for instrument calibration and repair. Cole-Parmer responds with excellence to customer needs, and offers application expertise and technical support. For more information, contact Cole-Parmer, 625 East Bunker Court, Vernon Hills, IL 60061. In the US, call 800-323-4340. International customers, call 847-549-7600. Visit us at http://www.coleparmer.com.