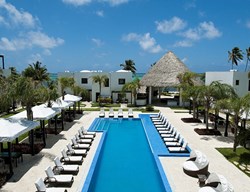 The warm, personal attention and hard work put forth by our team translates in to positive guest feed back and reviews on TripAdvisor.
San Pedro, Belize (PRWEB) February 14, 2014
Las Terrazas Resort, on the island of Ambergris Caye, is proud to announce that for its 4th consecutive year, the resort has been awarded the TripAdvisor© Travelers' Choice award as a Top 20 Luxury Hotel in Central America and as a Top 10 Hotel in Belize. Now In its 12th year, the TripAdvisor Traveler's Choice awards are based on millions of real and unbiased reviews and opinions about hotels, courtesy of the world's largest travel and hospitality website. Las Terrazas is honored to share the recognition alongside many of the world's most sought after luxury destinations.
"We're excited to recognize the world's best properties, based on the opinions of those who know them best - the millions of travelers around the globe who come to TripAdvisor to share their experiences," said Barbara Messing, chief marketing officer for TripAdvisor. "For those seeking inspiration for their 2014 travel planning, this list of spectacular accommodations that received 2014 Travelers' Choice awards is a perfect place to start."
"We are delighted to once again receive a TripAdvisor Travelers' Choice Award winner as a Top Luxury Hotel," said Carolyn Stone, Director of Sales at Las Terrazas Resort. "The warm, personal attention and hard work put forth by our team translates in to positive guest feedback and reviews on TripAdvisor. Belize continues to grow in prominence as a destination to be discovered. The country claimed thirty seven placements in seven categories at the TripAdvisor regional and world levels and the New York Times has listed Belize as a top 10 destination to visit in 2014."
About LAS TERRAZAS RESORT
Las Terrazas Resort in Belize prides itself on its luxurious oceanside accommodations comprised of 1, 2 and 3 bedroom townhomes. These vacation suites are handsomely appointed and include central A/C and ceiling fans, furnishings handcrafted from Belizean wood, kitchens with stainless steel Kitchen Aid appliances, flat panel televisions, free Wi-Fi, washer and dryer in each unit; everything necessary for guests to enjoy their tropical vacation in style. Located on the largest private beach front on the island of Ambergris Caye, the award-winning Las Terrazas Resort is a Preferred Boutique Resort and the only member of Preferred Hotel Group in Belize.
Located just 3.5 miles north of San Pedro this Ambergris Caye resort is an exhilarating tropical playground where you can discover the best of Belize, "Mother Nature's best kept secret." Las Terrazas has its own onsite 5-star PADI certified dive shop and dive team. Having a luxury resort less than a mile from the northern hemisphere's largest underwater barrier reef, some of the best scuba diving in the world, and an underwater explosion of color including almost 400 species of fish and coral could make most resorts comfortably rest on this advantage alone. However, Las Terrazas resort strives to be more than a one dimensional resort, and continues to strive to improve and offers its guests opportunities to take excursions to ancient Mayan ruins and provides its guests complimentary Wi-Fi and free use of on-site kayaks and Hobie cats. Vacationing at Las Terrazas truly is a "natural way of life."