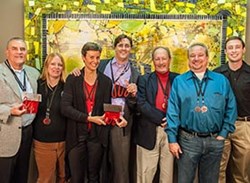 They've developed strong relationships that resulted in the most incredible custom projects of 2013.
Delano, MN (PRWEB) February 13, 2014
Landscape Structures Inc., a Delano, Minn.-based commercial playground equipment manufacturer, has named Sparks@Play, LLC of Owings Mills, Md., 2013 Rep Organization of the Year. The award was presented to the Sparks@Play team during Landscape Structures' annual sales meeting in Minneapolis, Minn.
"Sparks@Play was named 2013 Rep Organization of the Year because they've taken their business to a new level by developing strong customer relationships that resulted in creating some of the most incredible custom projects of 2013," said Pat Faust, president of Landscape Structures. "In their five years with Landscape Structures, Sparks@Play has shown a strong commitment to partnering with us at Landscape Structures to best service their clients' needs."
Sparks@Play worked on many notable projects with their clients in 2013. One large initiative in which they were involved was Play DC, the District of Columbia's Department of Parks and Recreation (DPR) focused on renovating playgrounds throughout the city. Because of this initiative, Sparks@Play was able to collaborate with DPR to create some amazing customized play destinations including a National Mall-themed inclusive playground at Rosedale Recreation Center, a Native American-themed playground at Palisades Recreation Center, a jazz-themed play space at Harrison Recreation Center and many more.
Sparks@Play is one of nearly 50 independent sales organizations representing Landscape Structures worldwide. They have been the exclusive distributor of Landscape Structures park and playground equipment in Maryland, Virginia and Washington, D.C. for five years.
About Sparks@Play, LLC
The owners of Hunt Valley Contractors, Inc. have partnered with Landscape Structures, the premier playground and skatepark equipment manufacturer, to distribute and install equipment throughout Maryland, D.C. and Virginia. Principals Stephanie, Isaac and Tom Sparks are pleased to offer this new product line to complement their existing decorative concrete construction products and the company's nearly 30 years of experience. As always, the Sparks@Play team will bring customers excellent products and workmanship. Learn more at sparksatplay.com.
About Landscape Structures Inc.
Since 1971, Landscape Structures Inc. has been the leading manufacturer of commercial playground equipment in the world. The employee-owned company is committed to creating a better world by encouraging outdoor activities that develop healthy kids, families and communities. Landscape Structures designs better playgrounds that welcome all ages and abilities, become signature gathering spaces for communities and offer the most innovative play experiences. The company's mission from day one has been to enhance children's lives by fostering and creating inspiring play experiences while honoring the environment.