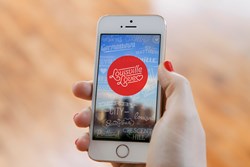 Louisville Love is an awesome Valentines day gift for all us Louisville lovers. Now when words fail... we can express our love with pictures! Melissa Chipman Insider Louisville - @loueyville
Louisville, KY (PRWEB) February 13, 2014
Louisville creative firm, Forest Giant, has teamed up with the minds behind the App Store sensation Over, to create Louisville Love, a unique tool for Louisville's mobile creatives. Louisville Love is a free app for iPod/iPhone that easily allows users to add unique, hand-crafted art to their favorite photos of Louisville landmarks and hotspots, while promoting city love and sharing the Louisville experience.
"We're hoping that this app, in some ways, encourages people to think about their surroundings more," explains Forest Giant's Creative Director, Jon Shaw. "It will have a big impact on people; just being aware of how awesome this city is."
Additional facts about Louisville Love:
Users are encouraged to use the hashtag #louisvillelove and follow @LouLoveApp on Instagram; to help track the Louisville Love app conversation and to earn a chance to be showcased by app creators.
Louisville Love features 60+ hand-designed pieces of art from the designers at Forest Giant, including custom typography for Nulu, Germantown, The Highlands, and UofL.
Louisville Love is the second of the "Love" series inspired by Over; the first being "Cape Town Love".
In addition to text over photos, Louisville Love hopes to raise public awareness for City Collaborative, the new Louisville-based non-profit that aims to generate big, positive transformations throughout the community by way of many small, actionable events and solutions. Louisville Love was made possible by Louisville Downtown Partnership and Louisville Convention and Visitors Bureau, and with creative contributions from Kertis Creative.
As simple as selecting a photo and placing artwork, Louisville Love is a fun way to transform your photo from a day out at Cherokee Park or an evening at the Bats' game into a unique piece of art that you can share to Instagram, Facebook, Tumblr, or more, all through the app, available for free on the iOS App Store on Valentine's Day, 2014.
About City Collaborative
City Collaborative is an innovative group deeply passionate about Louisville, Ky. Their mission is to execute on ideas quickly to generate positive transformation throughout the community. http://citycollaborative.org
About Forest Giant
Forest Giant is a creative design and development team based in Louisville, Kentucky, with a focus on building custom apps and unique solutions. http://forestgiant.com
About Over
Over is an iPhone/iPad app for adding text and artwork to photos, with over one million downloads. Over has hundreds of fonts, incredible artwork and loads of more useful features. http://madewithover.com
About Kertis Creative
Kertis Creative is a storytelling company using video, photography, marketing and the web to bring strong messages to various communities.
Sponsors
About Louisville Convention and Visitor Bureau
Louisville Convention and Visitor Bureau's mission is to guide and promote Louisville and Kentucky culture, heritage, and tourism.
About Louisville Downtown Partnership
Louisville Downtown Partnership promotes Downtown Louisville by providing resources to those looking to open a business or move downtown.