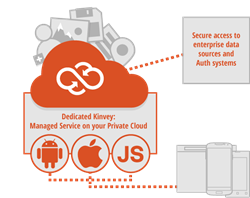 "Kinvey saved us a significant amount of time and money for the first app that we launched on their platform," said Bret Siarkowski, VP of RAD group at Game Show Network.
Boston, MA (PRWEB) February 13, 2014
Kinvey, the leading enterprise Backend as a Service (BaaS) platform, today announced the public launch of its Dedicated BaaS solution. With this announcement, Kinvey is extending its existing capabilities of providing enterprise IT departments a secure, standardized platform for accessing enterprise data, authentication services, and mobile backend features, by offering a dedicated deployment option for organizations that prefer this model. By using Kinvey's platform, enterprise lines of business now have the flexibility to launch apps for employees, partners, and customers on any device -- with the freedom to use an internal or external development team of their choice -- as well as the ability to build successful and engaging apps that seamlessly connect to their existing systems of record for data and identity.
Enterprises that leverage Kinvey's Dedicated BaaS offering typically start by launching one app on Kinvey's multi-tenant platform, and then scale to the dedicated managed service as they standardize on Kinvey. "Kinvey saved us a significant amount of time and money for the first app that we launched on their platform," said Bret Siarkowski, VP of RAD group at Game Show Network. "Their Dedicated BaaS offering helps us securely connect to our internal systems, while delivering apps that consume a rich set of backend features that we get from their platform and don't have to build ourselves. Not having to operate, scale, secure, upgrade, or maintain backend infrastructure is of tremendous value in our business."
Kinvey offers each Dedicated BaaS instance as a managed service to its customers. Each Dedicated BaaS instance can be deployed on the customer's private cloud or on-premise data center. Furthermore, a Kinvey client has the option to customize its dedicated instance with their corporate branding.
Sravish Sridhar, founder and CEO of Kinvey, added, "Delivering a dedicated, custom-branded managed service for numerous Kinvey customers is a very hard thing to do at scale. The management tools we have built around Kinvey makes it easy for us to onboard a dedicated enterprise customer in days. Our mission is to ensure that our customers can deliver new apps twice as fast and at half the cost, without having to deal with server or service maintenance headaches."
With the launch of its Dedicated BaaS platform, Kinvey is uniquely positioned to scale its business in the pharmaceutical, financial services, insurance, media, consumer product goods, and manufacturing -- industries that typically need a dedicated offering for IT compliance purposes. With customers in these markets like Johnson & Johnson, Macquarie Bank, Aetna, Game Show Network, Vibram, and Womack Machine Supply Company, Kinvey continues to demonstrate that its platform scales to support the largest of customers and the most complex of global enterprise environments.
About Kinvey:
Kinvey delivers a complete Backend as a Service platform for enterprises, agencies, and developers building web, mobile, and tablet apps. The company's platform offers third party data integrations, multi-platform support, push notifications, and custom business logic. Using Kinvey's patent-pending Data Link technology, enterprise development teams can launch new mobile business apps, mobilize critical legacy data, and integrate with public and private data sources rapidly and repeatedly. Kinvey is a Techstars Boston 2011 alum and is based in Boston, MA. For more information, visit http://www.kinvey.com.