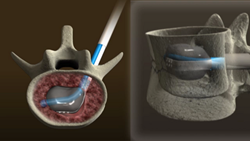 Bonita Springs, FL (PRWEB) February 14, 2014
Radiopaque Solutions, Inc., the leading innovator in the development of X-ray visible coatings and devices, has released the new "High Definition" radiopaque coating material for medical device use. Flexible, biocompatible, tungsten impregnated plastic material creates high contrast fluoroscopic images of medical devices using the new coating technology.
Traditionally rigid and expensive, metal platinum tubes cut into bands have been used to visualize medical devices in the body. Radiopaque Solutions, Inc.'s new "High Definition" coating can be used for creating radiopaque marker bands and has the ability to render an entire medical device visible under X-ray.
"This new 'High Definition' coating solves the issue of being able to see what devices are doing inside the body," said Thomas Lachner, RSI's President and CEO. "This inexpensive material gives biomedical device designers a new tool in creating safer, more cost effective, devices. It also has the ability to make existing devices better and easier to use."
The worldwide market for devices, including cardiovascular diagnostic and interventional catheters, using X-ray visible technology is over $5 billion annually. Radiopaque materials are significant components of most leading edge devices.
About Radiopaque Solutions, Inc.
Radiopaque Solutions, Inc., located in Bonita Springs Florida, USA, is a technology development company focusing on X-ray visible contrast technology for use in Medical Device and Aviation Security industries. It is a privately held, United States Government Certified, Veteran Owned business.