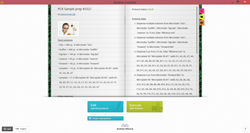 Andrew Assistant is the easiest application I've ever used in a biology lab.
Geneva, Switzerland (PRWEB) February 14, 2014
Andrew Alliance releases Andrew Assistant 2014, the free general purpose software for liquid handling protocol design.
Just one year ago Andrew Alliance launched Andrew, the anthropomorphic liquid handling robot that manipulates a complete set of manual pipettes, unattended (see video). In the meanwhile, Andrew has received the New Product Award at SLAS2013 and MIPTEC2013, the IBO 2013 Industrial Design Award, and the appreciation of many laboratories worldwide.
Today, Andrew Alliance launches the 2014 release of Andrew Assistant - the unique free solution to design and document biology protocols in a breeze, either for Andrew or for conventional manual pipetting.
No training is required to use Andrew Assistant: just describe on a computer screen by drag-and-drop what you already do at the bench when pipetting. Andrew assistant will automatically generate your pipetting protocol documentation, and compute all information (concentrations and volumes, for example) to achieve easily a correct liquid handling protocol without errors.
Andrew assistant 2014 includes:

Serial dilutions by direct indication of concentrations, not error-prone volume calculations;
Matrix combinations of multiple reagents in replicates;
One-click import-export of consumables, reagents and their concentrations between any other software, Excel or Laboratory Information Management System (LIMS), at any step of the protocol;
One-step transfer of reagents in different volumes by copy & paste of an external volume list;
Real-time, accurate translations of your liquid handling protocol in French, Korean, Mandarin Chinese or Cantonese and more - for the easiest protocol exchange without ambiguities.
Download it here from the Andrew Alliance website; it's free. Andrew and Andrew Assistant are the Andrew Alliance contribution in allocating scientists' time to intelligent activities - instead of routine and pain performing liquid handling at the bench that will unavoidably carry mistakes.
Andrew Alliance is an independent Swiss company that focuses in making the lab more efficient, proposing user-friendly solutions exploiting advanced robotics to the benefit of life science users. Created in 2011, the company is rapidly growing and is distributed worldwide through a large network of commercial partners.