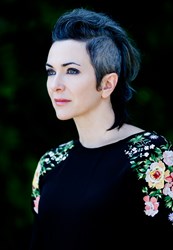 She is passionate in her message to all women, a message that comes from her own story: 'Find yourself, and then be yourself. Success and opportunity are hidden in every facet of our lives.'
Claremont, CA (PRWEB) February 12, 2014
Scripps College President Lori Bettison-Varga today announced that the College's 2014 Commencement speaker is alumna Nonie Creme, a global entrepreneur who helped found Butter London, one of the world's leading beauty product brands.
Bettison-Varga describes Creme, a 1994 graduate of the nationally top-ranked women's college, as "a brilliant and successful entrepreneur and business leader".
"She is passionate in her message to all women, a message that comes from her own story: 'Find yourself, and then be yourself. Success and opportunity are hidden in every facet of our lives.' It's a story she looks forward to sharing with us at Commencement, and we could not be more proud to welcome Nonie home to Scripps College," Bettison-Varga says.
Creme was the founding creative director of the break-out beauty brand Butter London. Her work in product design and development, color and branding helped shape the explosion of the nail color industry, and Creme became renowned for innovation in the beauty category. She was at the helm of product formulation, design and brand development for Butter London, which launched a ground-breaking line of non-toxic nail lacquers and treatments. The Butter London line is one of only a few nail lacquers that exclude the "toxic trio" – three particular ingredients known to be potentially harmful to users and the environment.
She has been featured in Vogue, The New York Times, Vanity Fair, W Magazine, Harper's Bazaar, Women's Wear Daily and dozens of other publications for her work in the beauty field, and she has created runway manicures for Alexander Wang, Calvin Klein, Victoria Beckham, Betsey Johnson, Julian MacDonald, Matthew Williamson, and many other fashion houses on both sides of the Atlantic.
Upon accepting the invitation to serve as the 2014 Commencement speaker, Creme shared with her alma mater that her path to building a multimillion dollar business was far from typical and called herself "an average student" as opposed to a Fulbright-winning, high honors-receiving student. She says she simply used the knowledge and skills gleaned from her Scripps education and combined them with a "ferocious spirit," creating a trajectory that continues to rise.
The Scripps Commencement ceremony takes place May 17, 2014. Visit the Commencement 2014 web page for information and updates.
Scripps College was founded in 1926 by Ellen Browning Scripps, a pioneering philanthropist and influential figure in the worlds of education, publishing, and women's rights. Today, Scripps is a nationally top-ranked liberal arts college and women's college with approximately 950 students, and is a member of The Claremont Colleges in Southern California. The mission of Scripps College is to educate women to develop their intellects and talents through active participation in a community of scholars, so that as graduates they may contribute to society through public and private lives of leadership, service, integrity, and creativity.