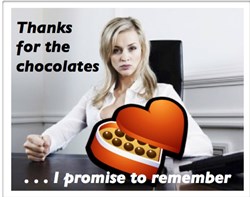 Just because Valentine's Day celebrates love, sex and romance does not mean your company's anti-harassment policies are suspended.
ATLANTA, GA (PRWEB) February 13, 2014
Deena Pargman, Ph.D., founder and CEO of DB Pargman Consulting LLC, reveals Five Valentine's Day Sexual Harassment Survival Strategies based on her many years of providing sensitivity and diversity training to managers, employees, and highly valuable executives. After fourteen years of providing one-on-one and group diversity, sensitivity, and anti-harassment consulting services and training, Dr. Pargman says "she's seen it all" and can reveal some patterns that will help office workers enjoy a fun holiday but also stay out of possible career jeopardizing trouble.
According to Dr. Pargman, Valentine's Day can be a fun day at the office and there is no reason to not enjoy it; but she cautions: "you are still at work and just because the popular media is celebrating love, sex and romance does not mean your company's anti-harassment policies are suspended."
As the nation's leading provider of Harassment Prevention and Sensitivity Training for over fourteen years, Dr. Pargman warns: "a holiday day at work when everyone is a slightly off their normal routine is prime time for small jokes and slips that will come back to haunt you at a later date;" however, with a little forethought and self-awareness "Valentine's Day can be a fun and safe break to the normal office routine." They key, according Dr. Pargman, who has worked with CEOs, doctors, top sales execs, military generals, athletic directors, and hundreds of other key personnel named in sexual harassment complaints, is to "remember that the fun stays within the normal policies and expectations of your office environment."
Dr. Pargman offers the following Five Valentine's Day Sexual Harassment Survival Strategies:
(1) Do Express Love for Your Products and Services. If you are planning an event or activity for your group to mark Valentine's Day, keep the focus of affection on your products or services rather than individual people. Games or contests can draw attention to what your organization does that is loved by employees, customers and clients but stay clear of singling out people.
(2) Do Not Come to the Office Dressed for Dinner. Dr. Pargman is not concerned how sexy or alluring your attire may be for your Valentine's Day date that evening; however, she warns, even if you have to run quickly from the office to the restaurant after work – plan a change or let your date dress be governed by your office dress not the other way around.
(3) Do Not Give Individual Gifts at the Office. Even if your intension is to express a non-romantic appreciation to a colleague or assistant and to "say thank you" – Valentine's Day is the wrong time to do this. The holiday is too loaded with romantic and sexual baggage; do not risk your innocent gesture being misconstrued.
(4) Do Give Chocolate for All. Let the entire office (or your floor, or your team etc.) know you love working with them by brining chocolates or cookies for the entire team.
(5) "Don't Get Your Honey Where you Get Your Money." Finally, the overriding piece of advice is to keep the love life out of the office. Admittedly, we spend a tremendous amount of time with co-workers and relationships can find their origins at the office; however, if you are in a relationship with someone you currently share a workplace with, then keep the flowers, amorous expressions, and lace out of the office.
Dr. Pargman warns "it's not that a gift of chocolates or flowers to a co-worker will immediately trigger a Valentine's Day blowup; however, a few months from now, when someone is slighted, wronged, or injured in another incident, they will remember that box of chocolates (whether given to them or someone else), how it made them feel, and what meaning they attached to it (even if you never in your wildest imagination intended it that way) and that is when you will see Valentine's Day indiscretions come back to bite in the form of a complaint" - a pink slip from HR you do not want to receive.
DB Pargman Consulting LLC is the nation's leading provider of One-on-One Executive Sensitivity Training. When a sexual harassment or other complaint occurs involving a valuable employee or executive, DB Pargman provides prompt and remedial responses for companies facing harassment and diversity sensitivity complaints. To help prevent harassment before it occurs, DB Pargman provides best in class preventative Group Anti-Harassment Training Programs. Headquartered in Atlanta, DB Pargman Consulting LLC serves a national client base of medium to large size companies, educational institutions, and government agencies.
http://www.dbpargman.com