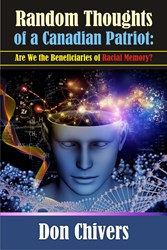 A thoroughly enjoyable read and a fascinating look at timely and controversial topics.
(PRWEB) February 13, 2014
Being random, Random Thoughts of a Canadian Pilot is not sequential; one chapter defines the relative strength of money, and another addresses the need for world cooperation in dealing with global warming. The author believes there is a plausible explanation of how and why man became a confrontational zealot over his adopted religion, and why religion became an argument of creation versus evolution. However, the author believes the world population is blind to its early beginnings, and unaware of the influence of racial memory.
Leaving no topic untouched, the author moves on to his homeland. The large number of political parties in Canada is shown as a disadvantage to a democratic federal election ever gaining a majority government. The book also shows how costly social programs lead to a spiral of "thinning the wealth," with government the main beneficiary, according to the author. Take a tour through some random thoughts in this enlightening new book.
Watch the video at: http://www.youtube.com/watch?v=Rl0sFnFqAVE&feature=youtu.be.
RANDOM THOUGHTS OF A CANADIAN PATRIOT: ARE WE THE BENEFICIARIES OF RACIAL MEMORY? (ISBN: 978-1-62516-934-1) is now available for $29.95 and can be ordered through the publisher's website: http://sbpra.com/donchivers or at www(dot)amazon(dot)com or www(dot)barnesandnoble(dot)com.
WHOLESALERS: This book is distributed by Ingram Books and other wholesale distributors. Contact your representative with the ISBN for purchase. Wholesale purchase for retailers, universities, libraries, and other organizations is also available through the publisher; please email bookorder(at)aeg-online-store(dot)com.
About the Author: Raised in Cardiff, Wales, Don Chivers now calls White Rock, British Columbia home. A World War II veteran, he was a hospital administrator before retirement. His photographic memory helps with his writing and he is now working on his next book.
Strategic Book Publishing and Rights Co, LLC