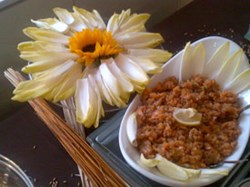 We very much appreciated your experience and professionalism from our initial discussions regarding menu and décor choices.
Toronto Canada (PRWEB) February 18, 2014
After a long winter, the melting of snow and the sprouting of leaves are a welcome sight. At Impeccable Taste Catering, CEO and Executive Chef Rodney Kaufman knows that the spring season brings with it a plethora of locally sourced produce that are the perfect fit for a light and colourful spring catering menu. "With farmers markets set to open, this is one of the best times of the year in Canada for eating fresh and local," says Kaufman. "We look to incorporate a variety of dishes into our catering menus that not only taste great, but that celebrate everything our local farmers have to offer."
From the floral beginnings of Ontario artichokes to the incomparable anise flavour of fennel, each spring dish on a catered menu brings with it the opportunity to create something special. At Impeccable Taste Catering, thinking outside of the box allows Kaufman and his team to truly bring out the exceptional tastes of the season.
Whether it's a professional corporate catered event, catering for the boardroom meeting or a small, intimate party, this menu will please all who attend. Here are just a few of the versatile vegetables and fruits that will be gracing plates in the coming months:
1) Rhubarb - while rhubarb is technically a vegetable, its use as a fruit to help add a tart sweetness to dishes ranging from pies to salsas is a welcome addition to taste buds come spring.
2) Asparagus - a perfect side to any main dish, asparagus comes alive in the springtime. The unique flavour is brought out naturally in a number of ways, from roasting to grilling.
3) Dandelion Greens - dandelions are often thought of as a nuisance, but the greens have a beautiful taste that can be easily brought out with steaming. Raw, they add a wonderful shot of spice to a multi-coloured spring salad.
4) Fiddleheads - this delicacy is only available for a finite amount of time come spring, so they need to be enjoyed early and often. A frond from the ostrich fern, these curled gourmet greens are at their most savoury when steamed and served with olive oil and lemon juice.
Impeccable Taste Catering works with private individuals, companies and corporations in Toronto and the wider Greater Toronto Area markets. Services include expert event planning and catering for casual lunches, seminars, conferences, product launches, release parties, corporate affairs and weddings, among other social events. Visit itcatering.ca for more details.