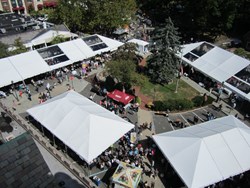 (PRWEB) February 17, 2014
Due to the unprecedented success in 2013, organizers of the SOWE Food & Wine Festival announced their 2014 schedule, packed with additional dates, locations, and exciting events. This past September, SOWE attracted over 7,500 attendees to an incredible epicurean celebration, featuring over 100 sponsors, 75 restaurants, celebrity chefs, and more. Highlights of the 2013 event can be viewed at http://sowefwf.com/highlights2013/.
"Last year's festival was so well received, and the feedback was so strong, we had to expand the schedule and programming to accommodate everyone" stated Richard Baumer, Founder of SOWE. "Every restaurant, vendor, attendee, sponsor, media partner, chef, and charitable organization, expressed an interest to participate on an ongoing basis." "We now have other Westchester municipalities involved, hosting different kinds of events in Scarsdale, Mamaroneck, and White Plains, to satisfy all types of foodies, oenophiles, music lovers, and beer aficionados."
Last year's Festival took place in a fully tented Scarsdale Village, featuring the best Westchester food, wine, beer, music, kid's activities, chef demonstrations, book signings, and celebrity meet & greets. In 2014, during the weekend of September 19th – 21, SOWE will showcase a variety of activities, including:

Friday, Sept 19, 2014: SOWE Best Chef Battle
Saturday, Sept 20, 2014 SOWE BBQ Bash, Concert, and Food Truck Parade
Sunday, Sept 21, 2014 SOWE Grand Tasting Village
With 25,000 in estimated attendance over the weekend, this year's program will include an outdoor concert in Harbor Island Park (Mamaroneck, NY), a chef competition, a BBQ tasting competition, and well as a chance for restaurants, wineries, pit masters, cheese mongers, breweries, and specialty culinary providers, to distribute tastings. SOWE 2014 will be adding additional charitable causes, media partners, restaurants, sponsors, vendors, celebrity chefs, and much more. Additional details will be announced throughout 2014, with ticket sales beginning in June, 2014. Our extensive marketing and media campaign will reach Westchester residents, as well as Connecticut, Rockland County, Northern New Jersey and Manhattan.
There will be additional events and activities in the weeks leading up to September, 2014. Sign up for email alerts to get all the details as they are announced at http://www.sowefwf.com. For additional information about the event, sponsorship, partnership, naming rights, internships, etc. please contact Rich Baumer at rb(at)sowefwf(dot)com. For information on becoming a SOWE volunteer, please email sb(at)sowefwf(dot)com.
About SoWe Food & Wine Festival: (http://www.Sowefwf.com) Join us at the Sowe Food & Wine Festival, September 19 - 21, 2014. Pamper your palate and quench your thirst throughout the weekend's festivities, showcasing gourmet food samplings from hundreds of Southern Westchester's top restaurants, caterers, bakeries, and pit masters, plus over 300 award winning wines and craft beers from around the world. Attendees will also experience celebrity-chef cooking demonstrations, product displays, book signings, live music, children's activities, and more! Baumer Ventures, Inc. (BVI, Inc.) is producing the festival, hosted by the Scarsdale Chamber of Commerce and the Village of Mamaroneck.