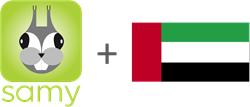 MobileBits is bringing business interactions in the UAE to another level
Dubai and Sarasota, FL (PRWEB) February 13, 2014
Igniva Technologies, a leading innovation marketing company based in Dubai Silicon Oasis, and MobileBits Corp., (OTCQB: MBIT), provider of Samy™, a leading mobile marketing and loyalty network, today announced the launch of Samy in Dubai. Within 24 hours, Samy was the top downloaded app in the lifestyle category.
Dubai is the first market in the United Arab Emirates (UAE) where Samy is available, operated by Igniva under regional license. Samy is launching with local stores and brands operating in the Dubai market including Samsung, Kia, Hyundai, Baby Shop as well as local businesses like Al Arrab Restaurant Group and many more.
"We are delighted to introduce Samy to the U.A.E. to provide efficiency and ease in connecting merchants with the country's diverse consumer base. MobileBits is bringing business interactions in the country to another level by providing the convenience of mobile marketing, customer engagement and networking all in one platform," said Yousef Shreim, President of Igniva Technologies.
"We are extremely supportive of the initial launch in Dubai and look forward to providing local advertisers a strong mobile engagement solution in the Middle East Region," said Walter Kostiuk, President & CEO of MobileBits.
Samy already helps thousands of bricks and mortar stores and brands connect with local consumers and drive engagement through in-store product redemptions and mobile commerce across many different types of industries including quick-service restaurants (QSR), full service restaurants (FSR) and retail businesses.
To learn more about Samy, visit http://www.samy.com.
About Igniva Technologies
Igniva Technologies, a leading marketing innovation company based in Dubai Silicon Oasis who focuses on planning, managing and leading the entry of innovative technology products into the Middle East and North African markets.
To learn more about what Igniva, visit http://www.ignivatechnologies.com.
About MobileBits Corporation
MobileBits is the provider of Samy, a leading mobile marketing and loyalty solution that drives engagement between brick and mortar stores and consumers. Samy delivers consumer engagement on a pay for performance (CPA) basis and provides businesses with the tools to create, manage and measure mobile commerce through a proprietary mobile CRM software.
To learn more about what Samy can do for your business, visit http://www.samy.com.
Forward-Looking Safe Harbor Statement:
This press release contains forward-looking statements that are made pursuant to the safe harbor provisions of the Private Securities Litigation Reform Act of 1995. By their nature, forward-looking statements and forecasts involve risks and uncertainties because they relate to events and depend on circumstances that will occur in the near future. There are a number of factors that could cause actual results and developments to differ materially from forecasted results. These risks and uncertainties include our ability to: attract end users; attract advertisers; our ability to successfully implement our current long-term growth strategy; as well as product demand, market competition, fluctuations in advertising payouts, delays in website & application development, technical issues beyond our control, reliance on the various platforms that we build applications on, and risks inherent in our operations. For a discussion of these risks and uncertainties, please see our filings with the Securities and Exchange Commission. Our public filings with the SEC are available from commercial document retrieval services and at the website maintained by the SEC at http://www.sec.gov.
For more information contact:
JoLynn Blatz
MobileBits Corp.
jolynn(dot)blatz(at)mobilebits(dot)com