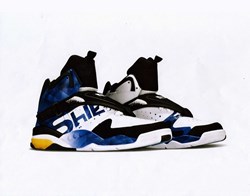 Culver City, Calif. (PRWEB) February 12, 2014
Urban contemporary and athletic footwear retailer Shiekh Shoes will partner with classic American sneaker and apparel manufacturer Converse to hold a release event for the new Cons Sneaker Collection featuring the Aero Jam sneaker Friday, Feb. 14, at the Westfield Culver City Mall. Members of the public are invited to visit Shiekh Shoes, the West Coast retail destination for Aero Jams and the Cons Sneaker Collection, and the ConsMobile truck for giveaways, contests and musical entertainment to celebrate the release of this new best-selling line from the classic company.
The event will kick off from 6 p.m. to 9 p.m. with Converse giveaways from the ConsMobile truck outside of Shiekh Shoes. The party moves inside where attendees will be entertained by a rap battle featuring 16 contestants and judged by West Coast rapper Sage the Gemini, whose single "Gas Pedal" graced the top Billboard Top 100. Attendees can also view the one-of-a-kind Shiekh Aero Jam customized by New York sneaker designer Mache.
Shiekh Shoes, which operates nearly 140 stores in California, Oregon, Nevada, Washington, Arizona, New Mexico, Illinois, Tennessee, Michigan and Texas, is set to carry eight new styles of Converse sneakers in stores Friday morning.
Shiekh Shoes is a footwear and apparel retailer that prides itself in selling quality products at affordable prices in styles ranging from women's dress and casual shoes and boots to men's athletic footwear and shoes for children. Shiekh Shoes carries top brands like Converse, Nike, Jordan, Adidas and Reebok. Special offerings include new releases and exclusives from top brands like Jordan, Nike and Reebok.
This event is open to the public. To sign up for the in-store rap battle, please visit Shiekh Shoes at the Westfield Culver City Mall. Space is limited.
####