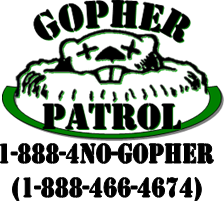 In Riverside gopher control is best left to the experts at Gopher Patrol.
Riverside, CA (PRWEB) February 13, 2014
Gophers in Riverside have made their move and gopher season is in full swing. But don't worry a gopher control company is available to help. Gopher control in Riverside can be tough if the right company isn't chosen. Gopher Patrol has been serving Riverside for over 17 years and they are the longest running gopher control company in Southern California. Richard Hernandez, Service Manager for Gopher Patrol, has been with the company since the beginning and it would be hard to find another technician who has more experience than he does at gopher removal.
"We are a family owned business and have been serving Riverside since we began," Richard says, "Gopher control is as more about experience than the chemicals you put into the ground." Richard goes on to explain that with all the new laws and regulations in place the most effective treatment method, Fumitoxin, is no longer available for most residential properties and experience is the most valuable method. Knowing gopher habits and tendencies really helps in determining the best approach and best treatment method for that job.
Gopher control trapping and baiting are still effective methods if done correctly. Richard isn't the only gopher expert Gopher Patrol has! Riverside gopher control technicians have been working with Gopher Patrol for almost a decade. Gopher Patrol's main office is located in Riverside as well and they recently announced that they offer same day service for new customers in Riverside for gopher control.
"We found that customers were having a hard time finding someone who could help us when we needed," Richard states, "So we answered the call from Riverside residents and offered same day service."
In Riverside gopher control is best left to the experts, don't try the bug guy or an inexperienced company looking to cash in on the gopher outbreak. Call the experts and longest running gopher control company in Riverside, Gopher Patrol.
Gopher Patrol can be reached at 1-888-466-4674 or visit them at gopherpatrol.com. They also can be found on Facebook and Twitter or you can email them at customerservice(at)gopherpatrol(dot)com.