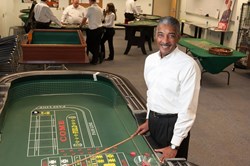 "I genuinely get excited when my clients do well."
Arnold, MD (PRWEB) February 13, 2014
Not only is new casino dealer Wayne Jones not a gambler, he wasn't even sure how most of the casino games were played. But the 59-year-old retiree decided he was ready for another challenge, so he attended an orientation on Anne Arundel Community College's new certificate program to learn how to be a casino dealer.
After working in a public service job for Baltimore City for 25 years, Wayne considers his new post another way to perform customer service. The job, he says, is also a lot of fun.
"I genuinely get excited when my clients do well."
With climbing enrollments and plans to expand schedules and add even more tables, AACC's Dealer School has clearly been a draw for students like Wayne. Since offering its first contract training classes with Maryland Live! Casino a year ago and the official opening of AACC's Dealer School last summer, more than 1,180 students have enrolled in the college's table game classes, adding up to more than 3,500 enrollments.
And more than 500 have found jobs.
Gaming is one of the fastest growing industries on the East Coast with six casinos in Maryland alone, and the U.S. Bureau of Labor Statistics predicts jobs for gaming dealers to grow by 17 percent by 2020. On target to add more than 15,000 jobs to the region, it has the fastest growth in gaming services occupations.
Check out this short video about how AACC's partnership with Maryland Live! Casino is getting students from the classroom to the workforce.
To prepare for Maryland state dealer licensing, students who enroll in AACC's Dealer School must start with blackjack before moving on to craps, mini baccarat, roulette, carnival games and Pai Gow. With an average beginning salary of $18,000, add in tips and table game dealers can earn $50,000 or more a year.
To help meet the demand, AACC's Dealer School hosts weekly information sessions. With the program's growing popularity and the availability of good jobs with a good salary, the college expects to continue expanding the program so that more students can train for a new career.
As for Wayne, his new career seems to be working out quite well and he says he can't believe his good fortune in landing a position as a dealer.
"They pay me to play games all day."
To find out more about AACC's Dealer School, including dates for upcoming information sessions, visit http://www.aacc.edu/hcat/dealerschool/.