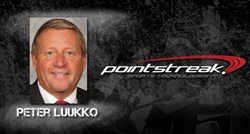 I spent a great deal of time getting to know the management and Pointstreak's business model while at Comcast-Spectacor. I believe the company has tremendous growth opportunities in the future.
Toronto, ON (PRWEB) February 13, 2014
Pointstreak Sports Technologies Inc., the industry leader in sports technology solutions, is pleased to announce that Peter A. Luukko, formerly Chairman of Global Spectrum and President/COO of Comcast-Spectacor, has joined the company's Board of Directors and has made a personal investment in Pointstreak.
"Peter is one of the top executives in all of sports. His vision, experience and leadership will prove to be a great addition to Pointstreak and we welcome him to the Board and as a shareholder of the company," said Scott Secord, Pointstreak' President/CEO.
Mr. Luukko will take an active role with the company and is expected to become vital in steering the company's growth strategy across all divisions. "I spent a great deal of time getting to know the management and Pointstreak's business model while at Comcast-Spectacor. I believe the company has tremendous growth opportunities in the future and when presented with the opportunity to join the Board and become an investor, I was confident I could provide value," explained Luukko.
Richard Crowe, Chairman of the Board of Pointstreak, stated "We are thrilled to have Peter join the Board of Directors. His knowledge and relationships in the sports industry will prove to be invaluable to Pointstreak and its shareholders as we continue to execute our growth strategy."
Before joining Pointstreak, Mr. Luukko served as President/COO of Comcast-Spectacor. In this role he was responsible for the creation of new business opportunities for Comcast-Spectacor in the fields of facility management, sports ownership, ticketing as well as food and concessions operations. He also oversaw all operations of the Philadelphia Flyers and served as a member of the Board of Governors of the NHL.
While at Comcast-Spectacor, Mr. Luukko oversaw the company's growth in facility management from seven facilities to over 115 by 2013. Additionally in 2000, Comcast-Spectacor acquired Leisure Food Services and renamed the company Ovations Food Services. Comcast-Spectacor made a significant investment into a ticketing technology company, Paciolan and employed its technology to create a full-service ticketing company, New Era Tickets, in 2004. Comcast-Spectacor acquired 100 percent of Paciolan from Live Nation in 2010.
Under Luukko's leadership, Comcast-Spectacor helped Philadelphia garner national attention and awareness by attracting the 2002 NBA All-Star Weekend, the 2001 NCAA Men's East Regionals, the 2001 and 2002 X Games, the 2000 NCAA Women's Final Four, the 2000 Republican National Convention, the 2008 U.S. Olympic Team Trials for Gymnastics, the 2011 NCAA Wrestling Championships, the 2014 NCAA Frozen Four, and numerous other sports and entertainment events to the City of Philadelphia.
A recognized leader in the facility management industry, Luukko was the 2000 recipient of the City of Hope's Tri-State Labor Award. He also received the 2002 prestigious Harold J. VanderZwaag Distinguished Alumnus Award from the Sports Management Program of the University of Massachusetts for his accomplishments in the field of sports management.
Luukko actively serves on the Board of Directors for the Philadelphia Convention and Visitors Bureau, and the Philadelphia Sports Congress, and the Ed Snider Youth Hockey Foundation. He also served on both the National Hockey League's and the National Basketball Association's Board of Governors.
XXX
ABOUT POINTSTREAK SPORTS TECHNOLOGIES
Pointstreak Sports Technologies Inc.'s mission is to provide innovative technologies to enhance the experience of the global sports community.
Specialized for the needs of sports organizations such as leagues, teams, associations and governing bodies, Pointstreak's solutions streamline operations and improve the experience of sports participants, fans and media. Pointstreak has three broad divisions: League & Team Management Solutions (brands: Pointstreak Stats - real-time league statistics software; Pointstreak Registration - online league registration software; Pointstreak Sites - website content management system; Pointstreak Stream - a live & on-demand sports video streaming service), Electronic Raffle System (brand: Pointstreak 5050) and athlete performance and video analytics software (brand: Pointstreak Performance).
More information about Pointstreak Sports Technologies Inc. can be found at http://www.pointstreak.com, through the league software product website http://www.pointstreaksolutions.com or through the corporate micro site.
Connect with Pointstreak on Facebook, Twitter, LinkedIn, Google+ and YouTube.