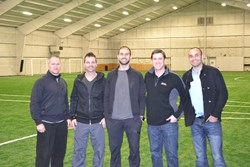 It just made sense to go with the best. The quality of Shaw Sports Turf's product and Kormac's installation has given us a huge 'Wow!' factor.
Nashville, TN (PRWEB) February 13, 2014
Boost FitClub, in the Belle Meade area of Nashville, recently set itself apart from other fitness and sports facilities with the addition of a new 30,000 square foot indoor synthetic turf field.
The field, made by Shaw Sports Turf of Dalton, Georgia and installed by Kormac of Nashville, will be used for fitness training, as well as training and competition for teams participating in a variety of sports.
"As many more young athletes turn to specialization in specific sports, the need for space for year-round training and events is a growing trend in the United States," said Jimmy Marshall, Territory Manager with Shaw Sports Turf. "This field provides more programmable hours for the club and fills a need for fitness enthusiasts and athletes."
The club was formerly the Westside Athletic Club and focused on racquet sports. Jon Sexton and Tarik Ramusovic met while working at Westside and became fast friends. Together, they opened Boost FitClub in a location about a 4-minute drive from Westside. When the facility became available, they looked at trends and opportunities and decided this would be a great location.
They bought the facility in December of 2012 and completed a remodel and rebranding of the facility in December 2013.
"We saw the potential," said Sexton. "There was nothing in West Nashville for indoor sports and we felt like a field would put an exclamation point on what we are offering in terms of the facility being a performance and wellness center."
Kormac of Nashville handled the installation of the field.
"We have extensive experience in the installation of synthetic turf," said Chad McClellan of Kormac. "The club wanted a premium system to provide a variety of benefits to its users and we're proud to have been able to be a part of this project."
Working with Kormac, Sexton and Ramusovic looked at a variety of synthetic turf systems, but ultimately chose Shaw Sports Turf's Momentum 41 system. The Momentum system is constructed from a slit film fiber which offers the durability and performance required by extensive use.
"We looked at other options, but felt like Shaw Sports Turf's product was superior," said Sexton. "We knew Vanderbilt played on Shaw Sports Turf on its football game field and indoor practice field. It just made sense to go with the best. The quality of Shaw's product and Kormac's installation has given us a huge 'Wow!' factor."
Sexton says the installation of the surface has tripled coaching revenue and bookings are heavier than anticipated.
The field is being used for soccer training and soccer leagues, and is striped for soccer. However, the field is also used for baseball training, lacrosse, flag football, clinics, and any other sport which normally takes place on a grass surface.
Across the country, facilities are springing up that are dedicated to sport-specific training, but facilities such as Boost FitClub have incorporated that training into a fitness center to offer the best of both worlds.
According to the International Health, Racquet & Sportsclub Association (IHRSA), there were 30,500 clubs in 2012. Multi-purpose facilities such as Boost FitClub represent 25% of those clubs and that number is growing. With over 50.2 million members, that represents 17.5% of Americans.
Each club has an average of 1,646 members with those people having been members for an average of 4.5 years.
Sexton says that while fitness training is a large component of the business, the fastest growing segment is younger athletes involved in sport-specific training. That is borne out through a couple of other significant statistics from IHRSA.
IHRSA says that the use of fitness equipment has declined by 16% since 2010 because of the trend toward sport-specific training and newer fitness activities such as boot camps. Also, members under the age of 18 grew from 3.9 million in 2007 to over five million in 2012.
"Our sports performance training is huge right now," said Sexton. "Our strength coaches are also in heavy demand and have years of experience with organizations such as the Tennessee Titans, the University of Oklahoma, and Ohio State University."
While Boost FitClub has one location at present, Sexton and Ramusovic have seen the potential to expand into other areas and develop centers which offer synthetic turf playing surfaces to open up opportunities to more people.
About Boost FitClub
Boost FitClub is more than a membership, it's a lifestyle. All of us have different reasons why we come here, and what we want to achieve. Inside BOOST FitClub, there are continuously changing monthly themes, innovative coaching and group programs that give you lifelong results. Now, you can do your own thing, or follow along. That is how this place works. From stock market traders to students, from stay-at-home moms to singles, everyone is drawn to BOOST FitClub. We call BOOST FitClub home and we love the place that lets us be ourselves. Come along, and give yourself a BOOST! Boost FitClub is located at 11 Vaughans Gap Road, Nashville, TN 37205. Find us at http://www.boostfitclub.com.
About Shaw Sports Turf
A wholly-owned subsidiary of Berkshire Hathaway Inc., Shaw Industries is a full flooring provider to the residential and commercial markets. Shaw supplies carpet, hardwood, laminate, resilient, and tile/ stone flooring products, as well as synthetic turf. Shaw Sports Turf is one of the leading synthetic turf companies in North America and has represented quality and innovation for more than two decades with over 1,000 successful installations, including an impressive list of high-profile field installations. For more information please visit http://www.shawsportsturf.com, call 866-703-4004 or find us on Facebook.
About Kormac
Located in Nashville Tennessee, Kormac was founded in 2013 by Chad McClellan and Korey Heightman. Drawing on their combined 20+ year experience in the sportsfield construction industry, Chad and Korey established Kormac to tackle the emerging markets of artificial turf. Call us at 615-371-6662 or find us online at http://www.kormac.com.