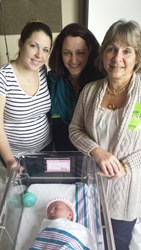 I will never be able to explain the feeling I felt when I saw how incredibly happy they were.
Bradenton, FL (PRWEB) February 14, 2014
The day had been approaching knowing that 2014 was going to bring the 200th successful live birth for Open Arms Consultants, and finally it came on February 2nd. First-time surrogate mother, Samantha, had been dilated for almost 3 days before being admitted to the hospital. The intended parents, who reside outside of the United States were able to make their way to the Samantha's hospital once they heard that their baby was almost ready to make its debut.
At 6:30 am on Sunday, February 2nd, 2014, Samantha checked into the hospital and after a day of deliberating, a beautiful baby girl was born in the afternoon after 30 minutes of pushing. Baby girl "T" arrived while her mother and father were there to see it. Samantha describes how it felt during the delivery, "Seeing the look on the intended parents face when their beautiful baby girl was brought to them. I will never be able to explain the feeling I felt when I saw how incredibly happy they were. I've never been so proud of myself. The days following her birth my days were filled with e-mail after e-mail of adorable pictures of their new baby girl and it just made me more happy for what I had done. I know I gave them the greatest gift they'll ever receive and I'll never be able to explain the feeling I get when I think about that."
Samantha shared with us why she wanted to become a surrogate mother: "I've seen firsthand how infertility affects couples. My aunt and uncle struggled for 8 years to conceive. When I realized how easy I was able to get pregnant with my daughter (5) I couldn't stand back and not help. I originally looked into egg donation but when I researched surrogacy, knew it was something I could do and also wanted to do."
Since 2003, Open Arms Consultants has been helping families become complete. In it's early years, OAC primarily coordinated egg donations for intended parents but then Souad Dreyfus, the owner of Open Arms Consultants, saw the need for the assistance in surrogacy arrangements. She began managing surrogacy journeys on her own and now OAC has grown to a full staff of consultants and intake coordinators. "This is an incredible accomplishment for us and we are so proud of Samantha, "Souad says about the 200th successful baby delivered. "There is so much that the intended parents go through before they ever pick up the phone to call us for help, so to be apart of the happiness and joy after such difficulty is why we do this."
For more information about becoming a surrogate mother, visit oacfl.com or call (941) 741-4994.