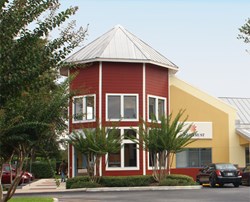 Wise business owners know that first impressions are important in attracting new customers.
Orlando, FL (PRWEB) February 13, 2014
Jeff Grow, Commercial Manager for Universal Contracting in Orlando, offers timely advice for Florida business and building owners: while inside renovations are not much affected by weather conditions, some tenant improvements may include parking areas and the building exterior. Any of this outdoor work would be wise to do before spring and summer rains.
For anyone considering improvements, the sooner they can be done the better. Tenant improvements would increase customer appeal that much faster, and can be claimed on either the landlord's or the business owner's taxes if done before April 15th. Keep in mind that business tax codes have recently changed; most work can be either expensed the same year or deducted over time, depending if the work is deemed "repair" or "improvement".
What is tenant improvement?
Tenant Improvements can be a variety of things. They can be made on a small free standing building, a strip mall or a high rise condominium. Any non-residential building is a commercial property, and if the owner has tenants occupying the space, their renovations here would be called tenant improvements. Generally, the focus is cosmetic rather than structural. The contractor goes in and improves the existing space; whatever improvements are needed to make the space more attractive.
Exterior: This could mean changes to the parking area and entrance. Other exterior upgrades include painting, window and door replacement, and soffit, fascia or roofing repairs.
Interior: Upgrades could be made to the lobby, restrooms, office space, conference rooms or showrooms. Walls can be added or removed to add to efficiency or appeal; there's replacing the flooring, ceiling tile, cabinetry, and counters. Other work includes painting walls, changing out plumbing and lighting fixtures, and installing new windows and doors. Contractors also help bring the space up to code by adding handicap ramps, flooring, doorways, and bathroom fixtures for ADA compliance.
Why make tenant improvements?
Wise business owners know that first impressions are important in attracting new customers, and contractors work alongside them to update and transform existing spaces so they reflect a clean, organized and efficient business. A contractor's focus is to take something old and make it new again; to give a facelift to the appearance of a building, a business. Whether it is a medical facility, a spa, or a retail store, contractors work to create a whole new atmosphere to make people feel welcome and attract new clients to their business.
The building owner also knows that a productive tenant will continue to occupy his building. Not only does a clean modern environment appeal to clients, but it enhances the efficiency and attitude of those who work there. Contractors help businesses achieve an environment that reflects pride in the workplace, good business practices and a good work ethic. This promotes productivity and ultimately improves income. These improvements will result in a substantial return on the business owners' investments.
About Universal Contracting:
Jared Mellick and his father Ken Mellick are the owners of Central Florida's premier construction company Universal Contracting, a family-run business which has been serving homeowners and business owners in the Greater Orlando area for more than 20 years. Together they host a local radio home improvement and construction talk show called "In the House with Ken & Jared."