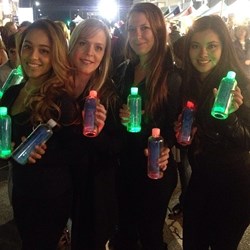 When MoJo water is activated, the bottle instantly lights up to display one or more of a dozen different colors and color combinations. The dramatic effect makes the MoJo brand highly visible, especially at night.
Los Angeles, California (PRWEB) February 13, 2014
MoJo Agua announced today the launch of of its new direct-to-consumer online ordering system. As of midnight this morning, the new website is operational, accepting orders for shipping within the United States.
MoJo Agua offers its beverage, MoJo Electro Light, an ultra purified drinking water, with a uniquely designed bottle and label. The innovative label attached to its product includes a series of tiny LED lights which illuminate the container as the water is consumed.
MoJo points to decades of scientific studies that confirm the positive impact light can have on an individual's mood and psychological well-being. The company claims, the energizing affects of light provide basis for their exciting new water beverage.
MoJo's HR department remains active, continuing to interview and bring in additional personnel to support its rapidly expanding online distribution channel.
"Quality customer service is key to generating a loyal online following. We're working diligently to make sure we have the proper systems in place to take care of our friends, fans and customers," says MoJo's Vice President of Marketing, Dan Jordan.
Mr. Jordan also adds, "In large part, 'taking care of our customers' means having our product available to customers when they want it. As we roll out our national distribution plan, this website will help keep up with demand in areas where retailers have yet to get on board."
MoJo Agua will be adding new colors and products to its website (http://www.mojoagua.com) on a regular basis. Visitors are also encouraged to explore the company's Facebook and Twitter feed to keep up to date on the latest product innovations, new retail outlets and locations of exclusive MoJo sponsored special events.