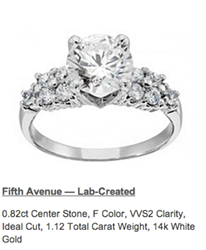 We've been waiting for this day for a long time and realize the huge advantages that lab diamonds have for consumers
Milwaukee (PRWEB) February 17, 2014
The road to lab diamonds has been a long one. For centuries humans have tried to replicate the beauty and brilliance of diamonds, but to no avail. Finally in the early 2000's a breakthrough came and the first lab diamonds were created. However, these diamonds could only be made tiny and yellow, not ideal for fine jewelry or engagement rings.
Now, over a decade later, the dream of high-quality diamonds, made in a lab, has finally coming to fruition.
Ushering in this new wave of technology is the world leader in lab-created jewelry, Diamond Nexus. Formally focused on their patent-pending simulant and rubies, emeralds and sapphires, they have now shifted towards diamonds.
"As soon as we knew this technology was available, we jumped all over it," explained Kyle Blades, Diamond Nexus' Director of Marketing. "We've been waiting for this day for a long time and realize the huge advantages that lab diamonds have for consumers."
Those advantages include a price tag that is 25-50% less than a mined diamond. Diamond Nexus also boasts of their lessened ecological and ethical impact that comes from not having to mine the diamonds. "Until now there has been no such thing as a zero-impact diamond but now there is. The fact that you can save money while saving the earth is absolutely mined boggling!" Exclaimed Mr. Blades.
Lab diamonds are made the exact same way as diamonds that come from the ground. However, what takes Mother Nature 10 million years to do, Diamond Nexus can replicate in about 10 hours. Although this technological breakthrough has been a long time coming, it's one that's sure to excite future brides to be.
To learn more about lab diamonds, please visit DiamondNexus.com.
Diamond Nexus was founded in 2004 with the purpose of bringing to the public the powerful benefits of the lab-created diamond stimulant revolution. They have over 250,000 customers worldwide that have awarded them an "A+" rating with the BBB, and are the ninth largest online jewelry retailer in America according to the 2013 IR500 list. For three years in a row brides from The Knot have selected them as their Best of Jeweler. Diamond Nexus currently has a flagship location at Woodfield Mall in suburban Chicago.