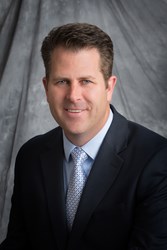 Patrick's experience and technical skills are great assets to HNTB's growing transit practice.
Minneapolis, MN (PRWEB) February 12, 2014
Patrick Watz, PE, has joined HNTB Corporation as rail transit practice leader and vice president. Watz has more than 21 years of transportation industry experience, including planning, program management, design, construction management, and project controls services for highways, bridges, rail transit systems and facilities.
He is based in the firm's Minneapolis office and serves clients nationwide. As rail transit practice leader for the Great Lakes Division, Watz will help drive growth for the transit practice, which includes light rail, commuter and intercity rail, bus rapid transit and streetcar projects.
"As we are winning new rail transit projects and working with existing clients, Patrick's experience and technical skills are great assets to HNTB's growing transit practice," said Liz Rao, HNTB chair public transit services.
Watz's expertise includes managing design teams, providing project technical leadership, maintaining project cost and scheduling controls, ensuring contract compliance and delivering at the highest quality standards. In addition, he is experienced with the Federal Transit Administration's Capital Investment Program guidelines and New Starts evaluation criteria.
Prior to joining HNTB, Watz most recently led the engineering services consultant team for the Central Corridor Light Rail Transit project in the Twin Cities. The CCLRT project is an 11-mile LRT line linking the Twin Cities, St. Paul and Minneapolis. At $957 million, the project is the largest public works project in history for the state of Minnesota.
Watz graduated with a Master of Business Administration from the University of Chicago and a Bachelor of Science in civil engineering from the University of California, Berkeley.
HNTB Corporation is an employee-owned infrastructure solutions firm serving public and private owners and construction contractors. Celebrating a century of service, HNTB understands the life cycle of infrastructure and addresses clients' most complex technical, financial and operational challenges. Professionals nationwide deliver a full range of infrastructure-related services, including award-winning planning, design, program delivery and construction management. For more information, visit http://www.hntb.com.