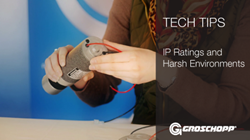 Sioux Center, IA (PRWEB) February 14, 2014
Watch Groschopp Inc.'s latest Tech Tip video to quickly learn how fractional horsepower motors are rated for harsh environments. Understanding IP ratings and harsh duty requirements is important to accurately communicate an application's requirements.
To assist engineers in understanding fractional horsepower motors Groschopp, Inc. has a "How to and How it works" video series on their YouTube channel and website. Each segment is 2-3 minutes, giving engineers the information they need with minimal interruption to their day.
For over 80 years, Groschopp Inc. has delivered expert technical assistance, superior product performance, quality-honed workmanship and industry experience in the manufacture of highly engineered fractional horsepower electric motors and gear motors for OEM and distribution products. With products designed and manufactured in the USA, Groschopp offers a full line of AC, DC, brushless DC and universal motors that can be combined with right angle worm, planetary, right angle planetary or parallel shaft gearboxes. (An ISO 9001:2008 registered company.)