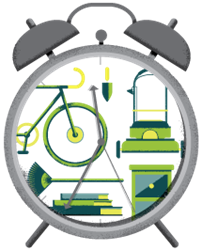 myFourLeaf is a great solution for people that have a lot of items that are logical to sell together as a bundle - it saves time and money.
Clive, IA (PRWEB) February 14, 2014
myFourLeaf, Inc, based in Des Moines, Iowa, has recently launched http://www.myFourLeaf.com , a traditional auction website with an untraditional twist. In addition to supporting auctions for individual items like most auction sites, myFourLeaf features special support for bundled lots.
"Think of a bundled lot as a little storage unit, but in this case the seller knows exactly what they are buying", says President Sue Hanke. "myFourLeaf is a great option for people who are going through life changes and find they have a great inventory of items that another person might want to buy all together. Let's say a family is done having kids and they have an assortment of toddler items – a crib, a car seat, a stroller, some clothes. A new mommy might find buying these items all together very appealing." "Then, says Hanke, if there are items in a purchased lot the buyer doesn't want, they can turn around and sell those items on the same site". Also ideal for businesses that are liquidating or have excess inventory or office furniture, myFourLeaf can meet the needs of many diverse demographics.
Speaking of storage units, Hanke also explained that myFourLeaf's design will also accommodate online storage unit auctions, which is a secondary market they will be pursuing.
A simple two step process and a low, uncomplicated fee structure make myFourLeaf attractive to online auctioneers. If a listed lot doesn't sell, no fees are charged and the seller can relist an unlimited number of times for free. There is also a "Bid 'Til you Win" feature that will extend the auction if bidding continues at the end of the auction duration. "There is nothing worse than bidding on an item and getting beat at the buzzer", says Hanke. The feature also benefits the seller who may get more for their lot than they would have otherwise.
Born out of a massive spring cleaning project and the frustration and cost of having to sell things as individual items on eBay, the Hankes developed the concept of auctioning bundled lots. "We felt myFourLeaf would be a great alternative to eBay - with their ever-changing fees, and Craigslist - which has presented safety concerns. It's a back to basics concept that just brings people and businesses together to help them buy and sell their stuff."
For more information about myFourLeaf, contact Susan Hanke at 515-490-9276 or shanke@myfourleaf.com.