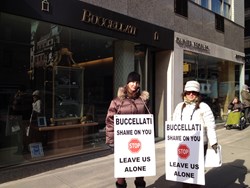 Help us have our day in court...
Miami, FL (PRWEB) February 14, 2014
Laura Buccellati and Lily Azel, founders of Laura Buccellati handbags, picketed the Buccellati store on Madison Avenue in 20 degree weather on February 6th, 2014.
Laura's uncle, Gianmaria Buccellati, and the Italian Investment firm Clessidra, SGR have been suing Laura Buccellati and business partner Lily Azel for alleged trademark infringement Southern District of Florida (Case 1:13-cv-21297-KMM). According to Women's Wear Daily, March 29, 2013, Gianmaria Buccellati, who until recently headed the jewelry company, retired and was named honorary president, by new majority owner Clessidra, SGR.
Originally, Buccellati, Inc, the jewelry company, filed in Federal Court in New York (Case 1:11-cv-07268-PGG). The case was dismissed on March 27, 2013 for lack of jurisdiction. According to court documents, Buccellati Inc. had relied on jurisdiction of an internet sale of a single handbag made to a private investigator hired by Buccellati, Inc. A month after the Clessidra acquisition, Buccellati Inc. re-filed their complaint in the Southern District of Florida (Case 1:13-cv-21297-KMM).
Laura Buccellati LLC, the leather goods company, is a two-woman operation based in Miami, Florida. Founders Laura Buccellati and Lily Azel have had to spend over $100,000 on attorneys to defend themselves in the New York case alone.
Laura Buccellati and Lily Azel need financial and moral assistance in their legal proceedings with Buccellati, Inc, to continue their entrepreneurial passion for handbags.
CROWD-FUNDING:
Crowd-funding is a method of raising capital in small amounts from a large group of people using the Internet and social media.
HOW YOU CAN HELP:
Please help us have our day in court by donating on the Indiegogo site:
http://igg.me/p/622604/x/5812694
ABOUT LAURA BUCCELLATI HANDBAGS:
Creator and founder Laura Buccellati designs her line of handmade carryalls for the discriminating handbag connoisseur. The stylish, modern line is rooted in the belief that a handbag should be both appealing and of superior quality with feminine flair. Each fine leather good is made from the finest exotic skins, including crocodile, ostrich, stingray, lizard and suede. Each piece is hand-crafted with the utmost commitment to detail by skilled Italian artisans. Every step of the production process incorporates authentic old-world craftsmanship. Luxurious, high-quality, chic and yet sophisticated and functional, Laura Buccellati creates timeless designs that become forever bags.
CONTACT INFO:
info(at)laurabuccellati(dot)com
305-753-1361