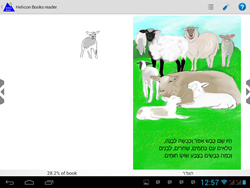 London, UK. (PRWEB) February 13, 2014
Digital books are still considered relatively new in the Israeli market. One of the main reasons for this is that until the development of the EPUB3 standard the technology did not fully support right to left reading, as it is in Hebrew and Arabic.
Helicon Books, an Israeli company for innovative e-book technologies, was established in 2012, coinciding with the emergence of EPUB3, at this point the company also joined the IDPF in order to be part of future developments in the standard, and contribute to the promotion of technologies for non-Roman languages; such as Arabic and Hebrew.
Ori Idan, Helicon Books CEO says: "In order to promote digital books in Israel there was a need for a reading application which supported languages which are read from right to left. We spotted a gap in the market and so decided to put our efforts in developing an EPUB3 reader that will be able to support reading, and paging numbering, right to left. We are pleased to say this was indeed the right step and today Helicon Books EPUB3 Reader has a lot of users around the world, but especially in Israel.
Helicon Books introduced the Israeli market to EPUB3 digital books. As Rotem Segal, Helicon Books marketing manager says: "Our first Israeli customers were IndieBook [a venture of the Hebrew poet Ron Dahan who is responsible for the flourishing digital poetry movement in Israel]. It was interesting to discover that not the literature but the poetry was the first to be published in EPUB3 digital books".
Helicon Books' main focus is introducing today's advanced technology to publishers and developing the Hebrew and Arabic languages in digital books.
The company has an influence on three main subjects: Reading right to left in digital books, Hebrew and Arabic diacritics in digital and advanced footnotes.
In children's and poetry books there is a need in diacritics but in some early e-book versions, these were flawed. Helicon Books invested time to research this issue and found fonts that present diacritics in a more agile and readable way [in Android and Apple].
Helicon Books' unique solutions for footnotes presentation [where they appear in a pop-up window instead of jumping to the end of the chapter as it was in EPUB2 readers] also has contributed to the progressive movement of EPUB3 in non Roman languages.
The Israeli digital books market is still in a developing stage, but as new players enter this market expansion during 2014 is expected.
Helicon Books is assisting existing publishers to move to digital and also assisting the promotion of innovative technologies in digital books for variety of languages. If you are an book publisher looking for digital support, find out more on the Helicon Books website.