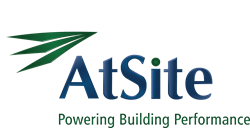 This is an exciting year for us as we continue to expand our footprint into new markets.
Washington, DC (PRWEB) February 13, 2014
AtSite Inc., a market leader providing building performance solutions, announced the addition of Jonathon A. Spitz to its executive team as Vice President of Business Development.
"This is an exciting year for us as we continue to expand our footprint into new markets," said Davor D. Kapelina, AtSite President and CEO. "A key to our growth is simply doing an effective job of sharing the great relationships and success we are enjoying with our clients. Jonathon brings tremendous market insight and experience to help us do exactly that, and rounds-out an already stellar executive team."
As Vice President of Business Development, Jonathon Spitz will lead the business development strategy and related development initiatives for the company. Spitz brings more than 25 years of innovative leadership in energy efficiency, sustainability and technology optimization across a wide spectrum of global real estate business ventures.
Prior to joining AtSite, Spitz was part of Johnson Control's building efficiency business, where he helped develop large-scale energy and sustainability engagements for global enterprise clients including; Glaxo SmithKline, Humana Corporation and TD Bank. He has also held various leadership roles with several large and entrepreneurial organizations including; Hines Interests, Amtek Engineering, and Vanguard Realty Group.
"Having been in the national and global buildings industry for some time, particularly in the energy and sustainability space, I have been watching AtSite," said Spitz. "It has been fascinating to see the company evolve and fill the huge building performance solution and services void - the opportunity to be part such an innovative and exciting company was impossible to resist."
About AtSite
AtSite guides building owners, occupiers and operators with the design, construction, operation and optimization of buildings and spaces. The company utilizes Smart Building Technologies, Energy Management Tactics, Sustainable Best Practices and Integrated Building Strategies to deliver high quality, low cost and environmentally responsible buildings. By combining its talented building experts, open technology platforms and best-in-class global industry partners, AtSite delivers measurable results to building owners across many sectors, including healthcare, commercial, and education.
For more information about AtSite or to schedule a tour of the AtSite headquarters (a LEED Platinum space in a LEED Platinum building), please contact Stephanie Daly at 202-728-9800 x 117 or sdaly(at)atsiteinc(dot)com.