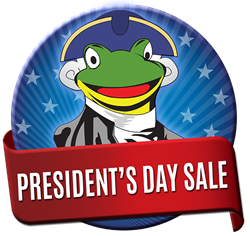 We are really excited for the President's Day Sales Event in conjunction with the Frogs birthday.
Hurlock, Maryland (PRWEB) February 13, 2014
With President's Day on Monday February 17th,Preston Ford is gearing up for their President's Day Sales Event. The President's Day Sales Event will be running from February 13th until February 28th. During this sales event there will be exclusive service specials and great deals on new Ford vehicles. Preston Ford has over 800 brand new vehicles for customers to choose from. Ford is running an enhanced incentive program during the President's Day Sales Event. Many of the new Ford vehicles are now being offered with 0% APR for 60 months. Now is the time to buy a new Ford from Preston Ford.
Ford has also introduced no payments for 90 days and also up to $2,000 cash back. Preston Ford is also encouraging people to make 'The Switch' to Ford. Not matter what vehicle a customer is in Preston Ford would like to show them a Ford and help them make 'The Switch'. Even Preston Ford's own employees have made the Switch to Ford vehicles. Making the Switch doesn't just mean moving from a non-Ford to a Ford but perhaps making the Switch from an older Ford to a newer Ford.
Currently Preston Ford is offering a service special called the Works service package. The Works Service Package is available for only $29.95 after a ten dollar mail in rebate. The Works includes oil change, oil change filter, tire rotation, checking brakes, fluid and belts. This is a great time to come in and get the Works Package for a vehicle. With winter in full force vehicles are going through rough conditions and should be checked often to make sure there aren't any issues.
Preston Ford is completely prepared for this President's Day Sales Event. In the past few years the President's Day Sales Event has helped Preston Ford have one of their biggest months ever. Not only is there the President's Day Sales Event to be excited about but the month of February is also the month The Frog was born. There is a lot to celebrate at Preston Ford this month. David Wilson Jr, Vice-President of Preston Ford states, "We are really excited for the President's Day Sales Event in conjunction with the Frogs birthday."
About Preston Automotive Group
Preston Automotive Group services the Delaware, Maryland, Virginia and Pennsylvania areas with Ford, Lincoln, Mazda, Hyundai, and Nissan brands. The auto group carries the largest selection of new and used cars and trucks. Additionally, the dealership services all makes and models, both imported and domestic cars with ASE certified and factory trained technicians. To further serve your automotive needs the Preston Automotive Group is also home to 3 auto body shops conveniently located around Delmarva in Preston, Cambridge, and the newest facility in Snow Hill, Maryland.