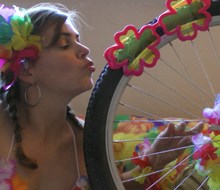 This is an attempt to accomplish a variety of ambitious goals from a bicycle that lead to ever bigger dreams.
San Francisco, California (PRWEB) February 13, 2014
After 15 years together, Lisa Nelson has decided to marry Steel Spokes, her beloved bicycle. The next day, the Spokes shall depart on a six-month bicycle touring honeymoon. On March 2, 2014, the unusual couple will tie the knot in Pacifica, just South of San Francisco. The Hawaiian themed affair will have the bridesmaids dressed in hula attire, complete with a flower girl, and a ring-bearing pooch (also appropriately dressed). The wedding party and assorted guests will be on bicycle. The entourage plans to cycle along the ocean to the old Pacifica Courthouse for the marriage ceremony. A festive luau reception shall follow.
All right, so why is this gal marrying her bicycle? The bride states, "This is an attempt to accomplish a variety of ambitious goals from a bicycle that lead to ever bigger dreams." She says that her ultimate dream is to create the "Semester on Cycle" university program, and this is the first phase of turning that dream into a reality. By moving her life to her bicycle, she hopes to lower her cost of living, complete her writing for her Ph.D. from Ohio University, and experiment with a bunch of collaborative arts, music, and service projects. The couple's new love nest will be primarily a tent, as they aim to keep to a $20 a day budget.
The bicycle marriage idea came to Lisa as a fundraising idea after reflecting on how many weddings and babies that she had helped fund. The project is posted on Indiegogo. In return for any support, the Spokes will provide an array of unique entertaining perks.
Lisa explains that this project is a culmination of her personal and professional experiences. She has led students from high school (delinquent to privileged youth) to college age on adventure and service experiences in the United States and Central America, for a non-profit organization, for-profit tour companies, and through a university. However, it's been over 15 years since Lisa has done an extended bicycle trip, and she has never attempted to accomplish major tasks while living on a bicycle.
The newlyweds plan to depart from northern California and ride south, but the specific route is not planned, nor will it be. "We want to let fate take its course and see where we were meant to end up." Having said that, they do hope to see the world. Everything they own fits into the bride's car, which will stay behind at a friend's home. Lisa has already begun blogging about the experience. She aims to blog throughout the bicycle adventure, and post entertaining videos along the way.
Lisa and Steel are originally from Willoughby, Ohio, but moved to San Francisco just over two years ago. They intend to continue making the Bay area their home, but are open to building their life elsewhere should the right circumstances present.