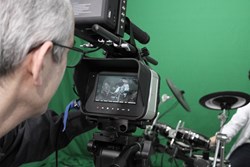 "We want to be able to share the client's story with their customers." - Craig Weisbaum, President of TalkingTree Creative
Washington D.C. (PRWEB) February 19, 2014
February 12th, 2014 marked a new chapter for TalkingTree Creative. The Washington D.C. based video and event production company announced it would be adapting the latest filming technologies by expanding its camera arsenal to include the capability to capture video at Ultra HD fidelity. TalkingTree Creative's goal is to build client brands through storytelling using engaging video and events for clients. The move to Ultra HD shows a continued commitment to the finest and latest technologies to enable what president Craig Weisbaum calls "cinema-style storytelling". "We want to be able to share the client's story with their customers, we've found the best way to do that is through engaging content."
About TalkingTree Creative:
Talking Tree Creative is a video and event production company that creates memorable experiences and lasting impressions on screen, on stage, and online. Headquartered in Washington D.C., TalkingTree Creative services clients in the government, private, and non-profit sectors, becoming a leader in the event production and video production field, infusing its work with elements of creativity, entertainment, and engagement. For more information about TalkingTree Creative, please visit http://www.talkingtreecreative.com.